So much for my intention to update this blog twice week. Twice a month seems to be more like it.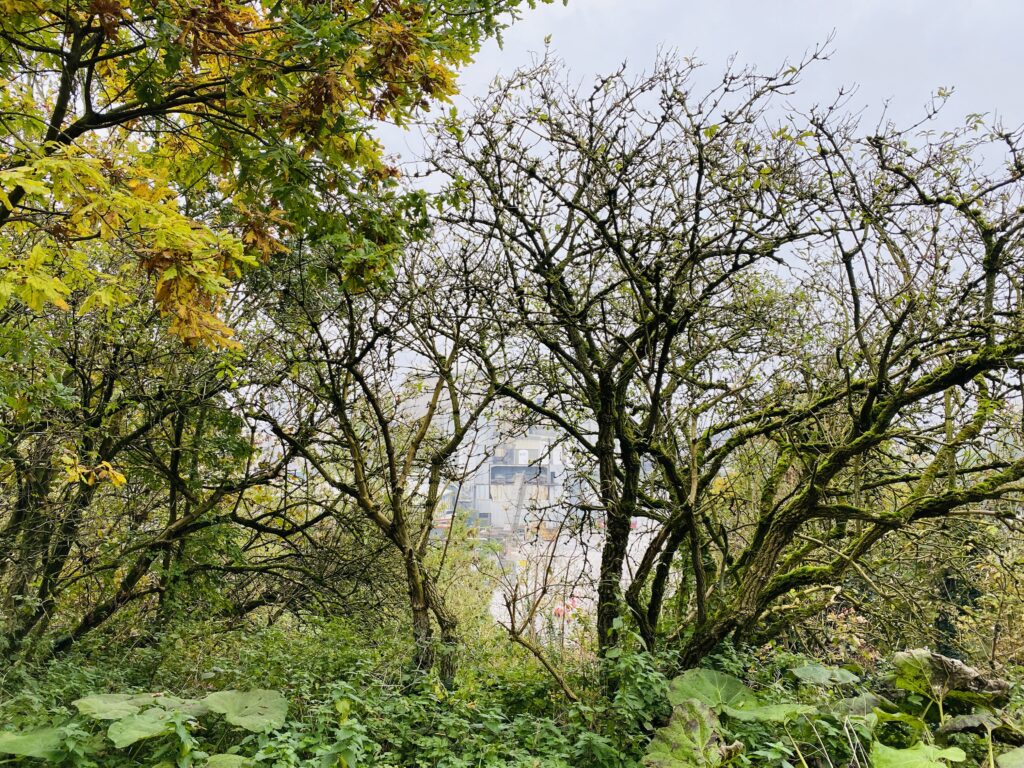 At the end of the last post we were effectively stuck at Audlem, on the wrong side of a faulty lock at Hack Green, and facing a long slog home around the Four Counties Ring. I'm typing this on a gloomy Sunday morning in Anderton on the Trent and Mersey Canal, overlooking the River Weaver (or more properly, the Weaver Navigation). In the end, we didn't have to do make the long trek, including Heartbreak Hill and the Harecastle tunnel. The day after I posted we heard on the towpath telegraph the lock was opened for a short window with CRT assisted passage, so we got through on a miserable wet day and returned to Nantwich. I'm still a bit cheesed off we didn't get a direct notification, especially as we'd been in contact with the Trust and were signed up for updates. The kindness of a fellow boater saved us.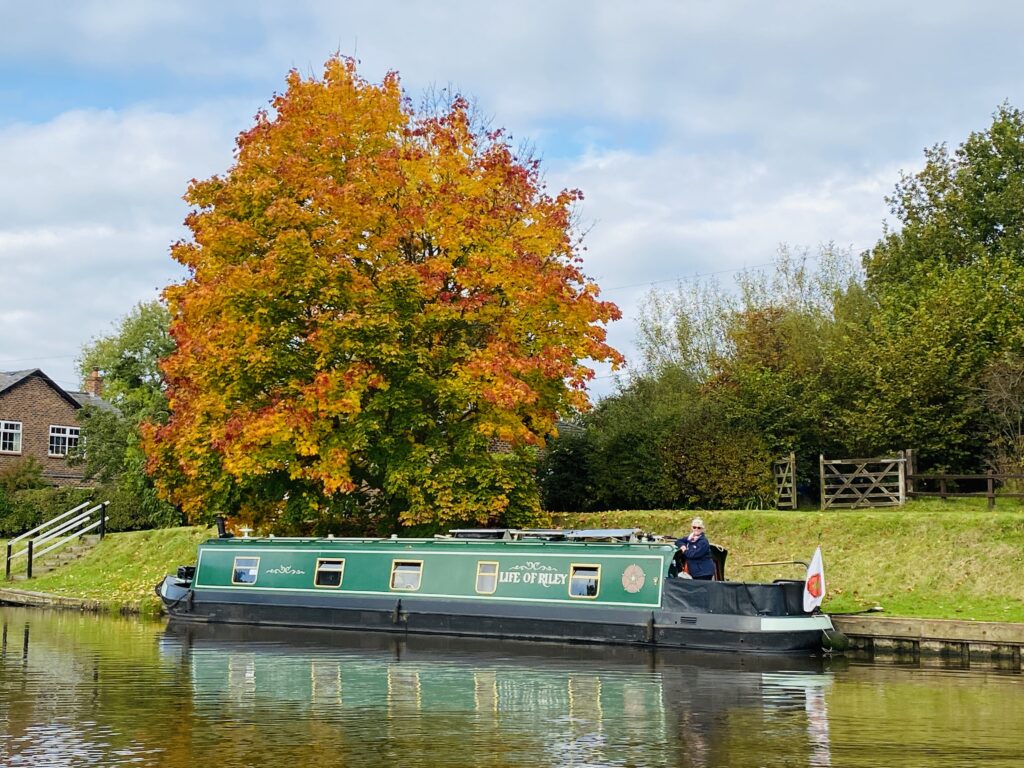 We've been travelling with Trev and Jenny as a pair of boats for over a month now, and have enjoyed many, many towpath drinks and competitive games evenings. Martyn taught Jen how to play crib! And we celebrated Martyn's birthday (12 again) in the Leigh Arms at Acton Bridge. On the Middlewich Branch we met up with fellow Bickerstaffe owners Pat and Eileen from Our Narrowboat Quest for a brief towpath chat. We last saw them at Christmas, so that was really nice. And Dave helped us through Cholmondeston Lock again. I might even have made him late for work …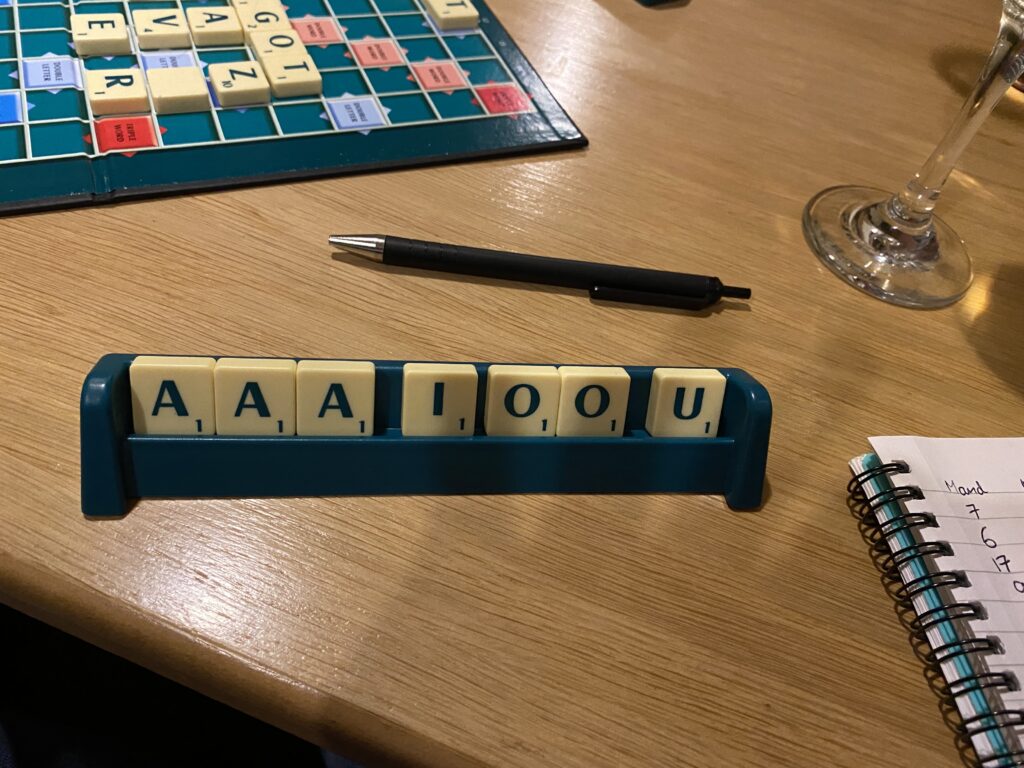 I think we were in some ways slightly disappointed to have escaped from the broken lock with no drama. With a complete inability to learn what happens if we complicate things, we hatched up another idea. We were going to spend a week on the River Weaver before leaving for home. As this had never been part of anyone's plan, Trev had to buy an anchor in Middlewich. It's inadvisable to boat on a river without an anchor to deploy in an emergency. Rivers are deep and have hazards canals don't, such as weirs and currents.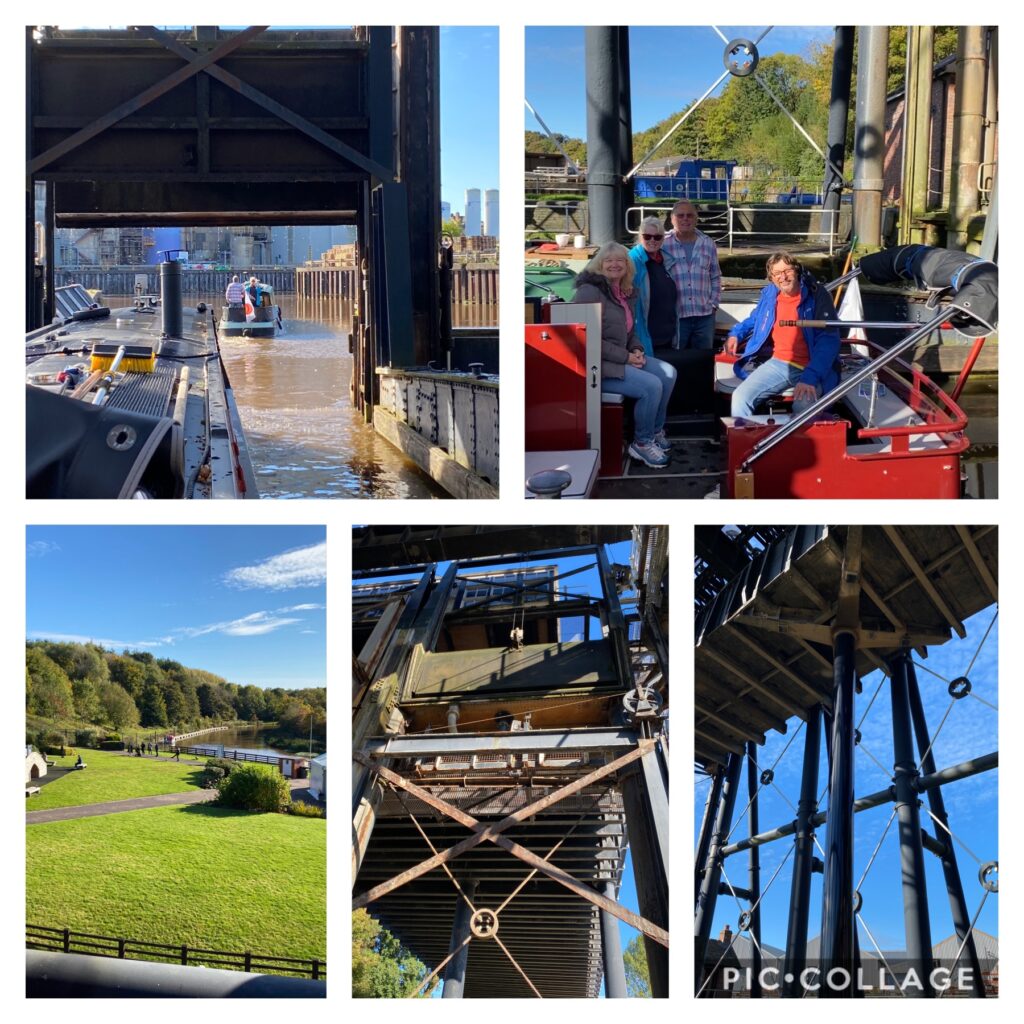 The River Weaver is 50 feet below the Trent and Mersey Canal, and to get to it by boat you have to use the Anderton Boat Lift. This is a remarkable piece of engineering built-in 1875. It is a steel structure with 2 giant buckets filled with water, or caissons (weighing 252 tonnes each!). The system works on hydraulic rams, and when one caisson goes up, the other goes down. Along with the Pontcysyllte Aqueduct, the boat lift is one of the wonders of our canal and river system and not one we expected to experience this year.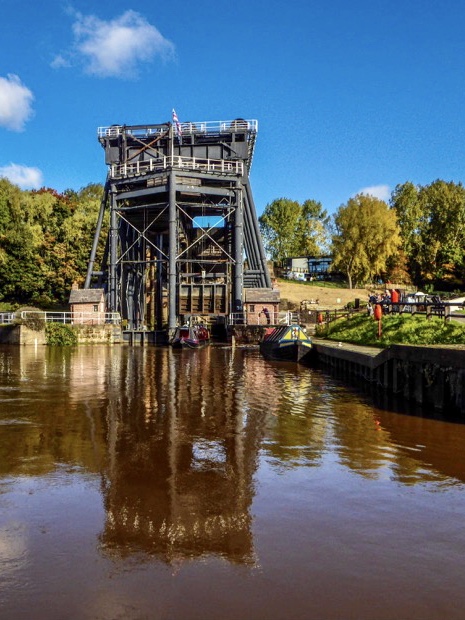 The River Weaver is beautiful, especially this time of the year, and remarkably quiet. We had countryside moorings mostly to ourselves and enjoyed the peace and quiet, the misty mornings and the scenery. The stretch between Saltersford Locks and the services near the M56 motorway at Sutton Swing Bridge is one of the prettiest we've cruised so far. And all the locks are operated by lock keepers. Just as well, because they're enormous.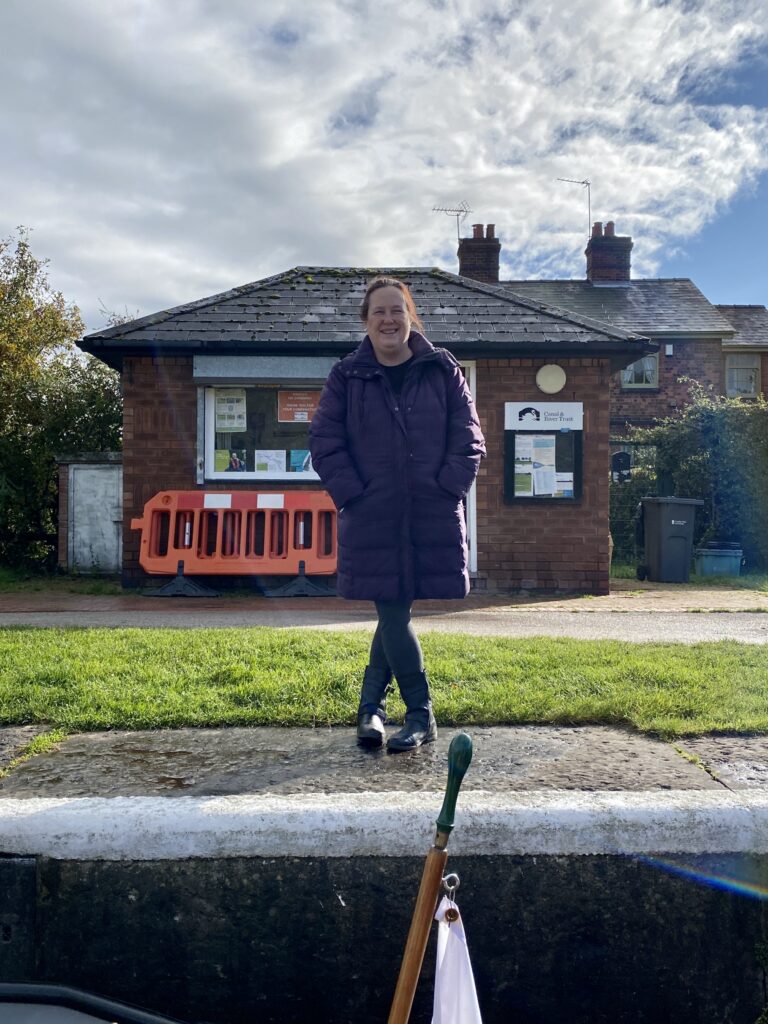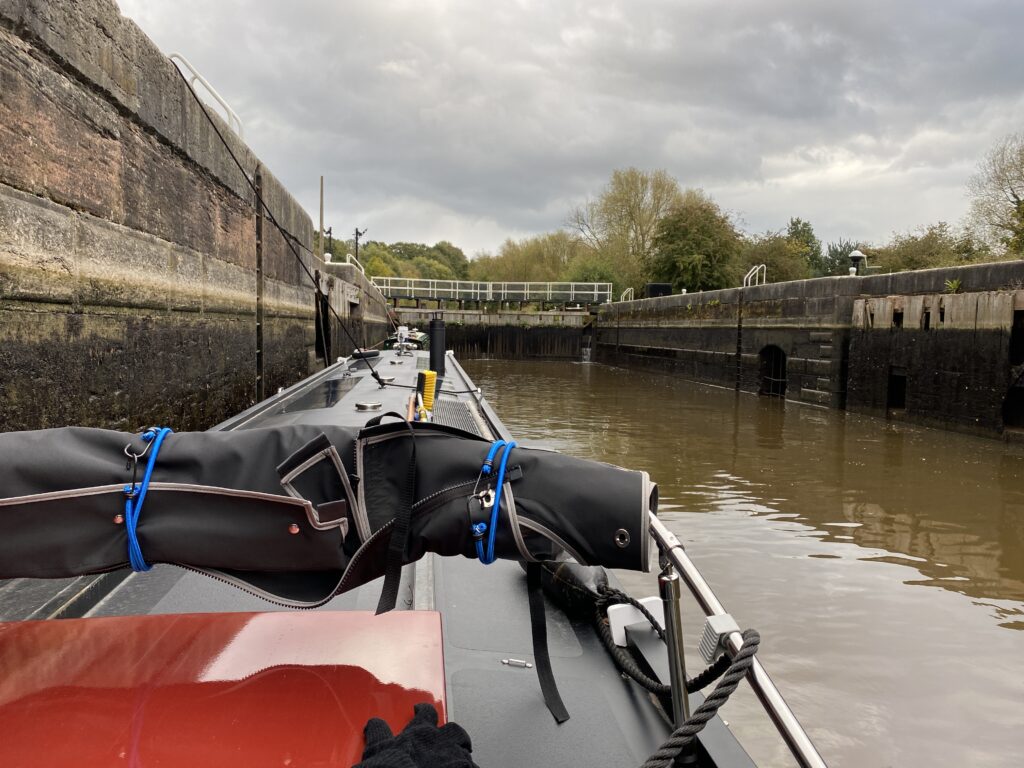 We didn't need the anchors, but Martyn did slip on a wet pontoon, and nearly took an impromptu dip. Thankfully all he got was a boot full of water!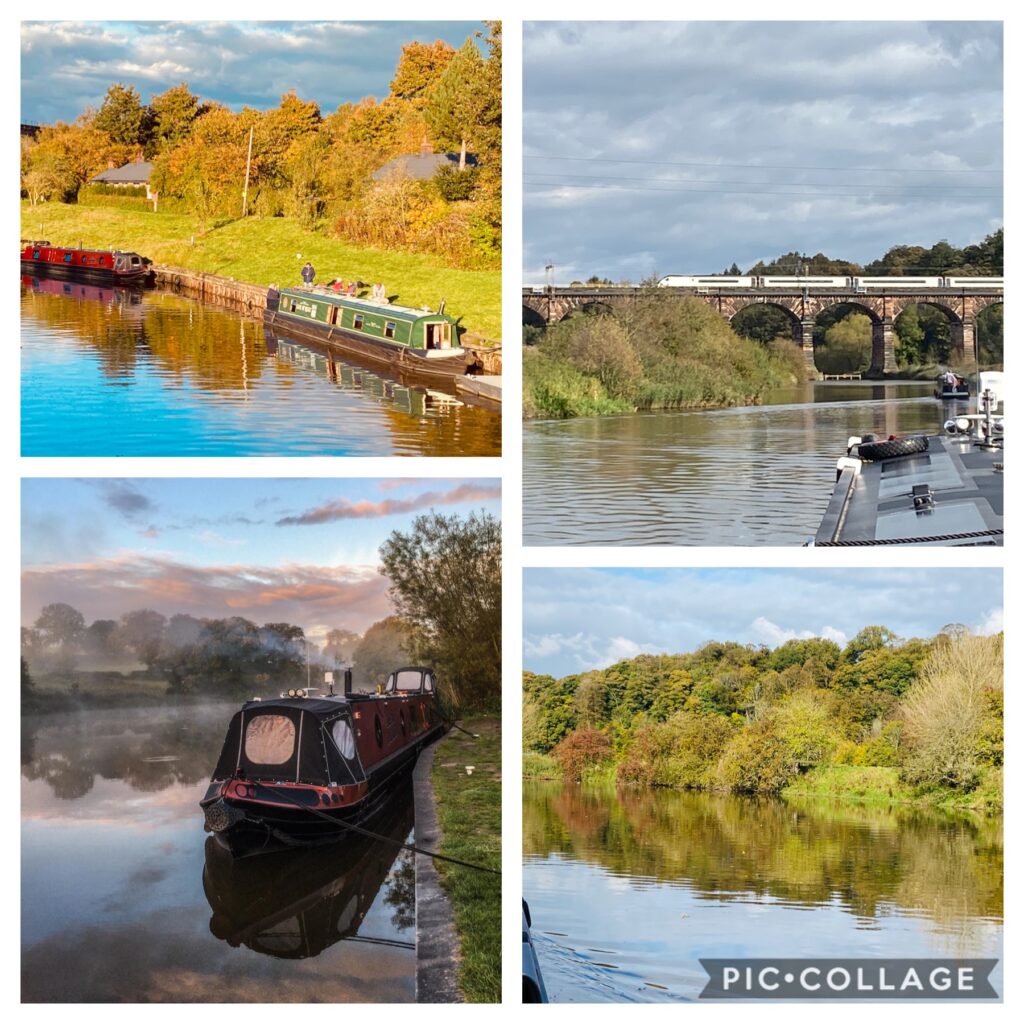 Now we're heading back to our marina. A bit sad to be doing so. Autumn boating is lovely.