We launched on a Friday. On Monday Anthony, one of our marina neighbours asked if we'd like to go out on our first trip with him and his grandson. A week after launch day we set off at 11.30 am. Fettlers Wharf, our marina, is on the Rufford Branch of the Leeds and Liverpool canal. There are 7 locks and 2 swing bridges between us and the mainline of the canal. 7 very hard locks. The gates are heavy and every lock seems to have a different operating mechanism. Some are conventional, needing you to turn a windlass to raise the paddles. Some have horizontal handles to wind, and some have torture instruments called cloughs which are basically long wooden levers which have to be raised to vertical and dropped into a socket. Heaving these up is like weight lifting. Every lock has an anti-vandal lock, or handcuff which has to be removed too. I was really glad we weren't on our own.
To make matters worse, Martyn gave me the tiller when we came out of the first lock. He'd had some practice manoeuvring in and out of the marina on Sunday, but it was the first time I'd been hands-on with the boat. Which is how I came to snap off one of the protective side swags on the side of the lock, in front of an audience. I was mortified. That was the last time I drove the boat that day. By the time we moored up at 6 pm close to the Slipway pub I was done for. Am I getting too old for this lark?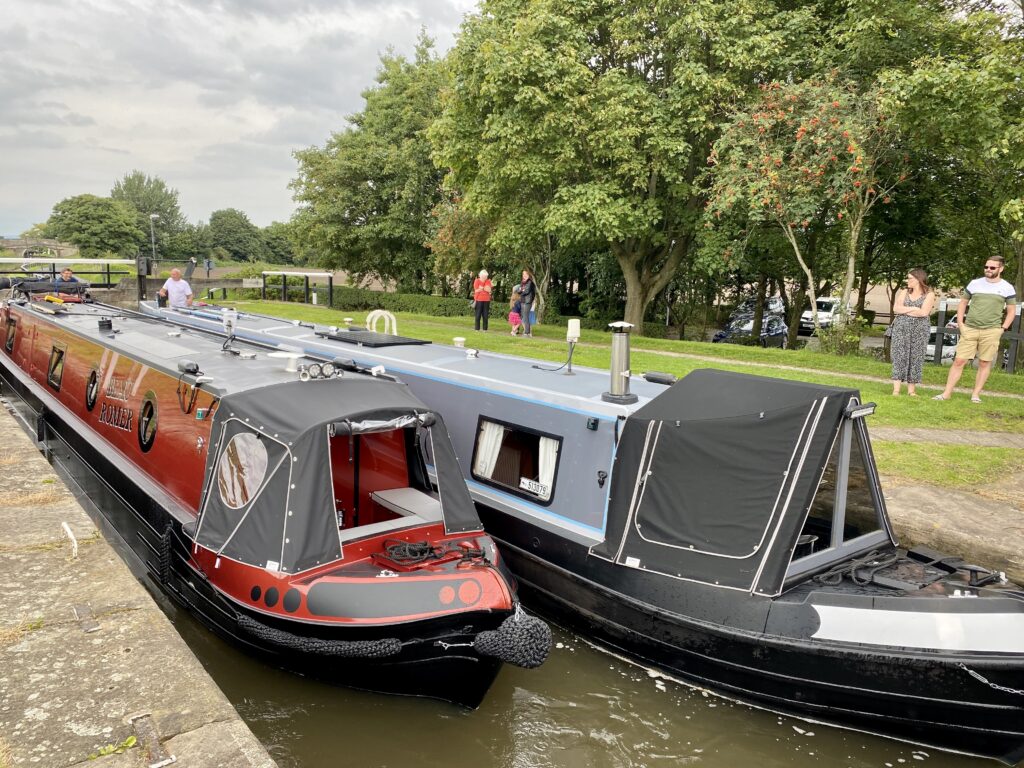 No worries. The next day we turned around to head East, going through a group of disgruntled competition anglers twice in the process. We enjoyed a five-mile cruise to Parbold, a couple of drinks and an excellent portion of fish and chips. Maybe narrow boating wasn't so bad after all.
On Sunday we went through Deep Lock at Appley Bridge and confronted with yet another lock mechanism I dropped our only handcuff key in. There was a lovely chap on nb Skipton who spent ages fishing for it with a magnet, but in the end he had to give up. We carried on through the same fishermen as the day before to Dean Lock, under the M6. I phoned Bickerstaffe and Ryan brought me a spare couple of keys. Now that's what you call fantastic service.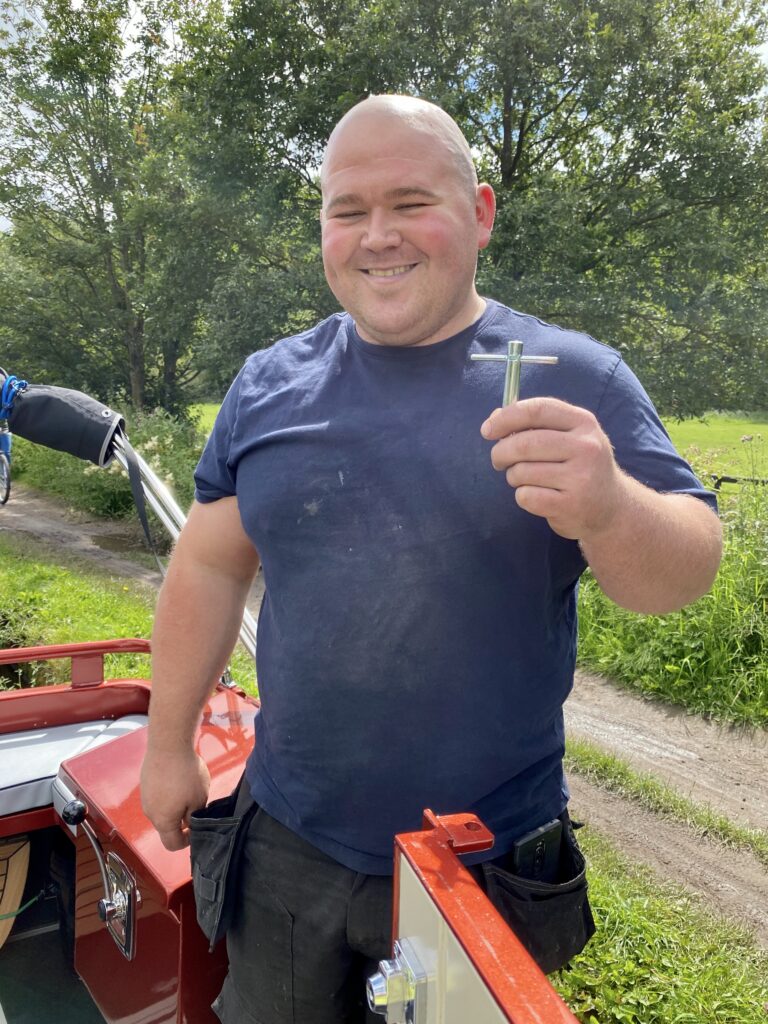 We moored up at Appley Bridge where there's a pub. There's a theme developing. Monday was a vile day weatherwise. Martyn lost a side fender in Deep Lock but managed to retrieve it. We only got as far as Lathom, but had dinner in the Ship, which is fast becoming one of our favourite pubs.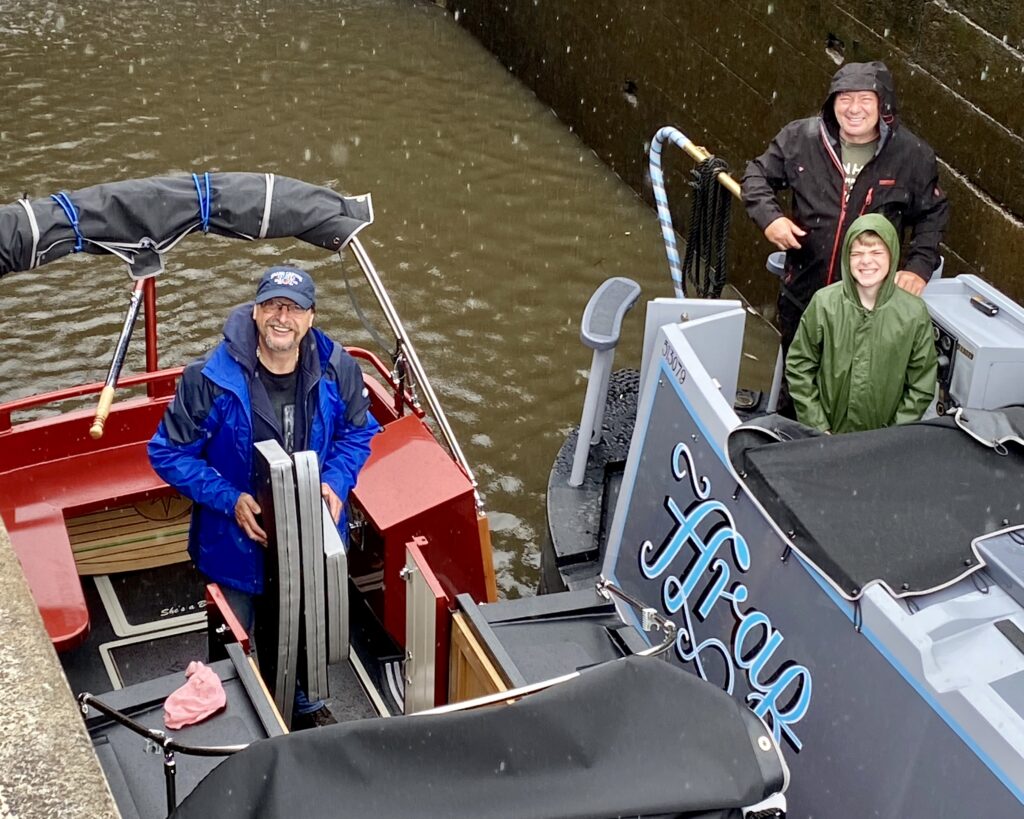 On Tuesday we headed back to Fettlers Wharf, having met our marina neighbours and shared the locks with them all the way home. It was another horrid, wet and windy day. We knew we should have stayed put but carried on anyway. That was a hard lesson learned. Poor Martyn was bobbing around like a rubber duck in a bath with an overenthusiastic toddler. All I could do was watch as the boat went everywhere he didn't want it to. The worst bit was getting on to our berth in the marina. It was so windy Martyn was pinned against the boats opposite, and everyone it seemed was out offering helpful advice. Eventually we got the boat moored and retreated to lick our wounds, by this stage, there were only two out of six fenders left on the boat!