When you fall off a horse the advice is to get straight back on again. That's what we did. The day after getting back from our first trip out we booked passage to Liverpool and a berth in Salthouse Dock.
We agreed to leave on Friday 31 July. We weren't due at the top of the Stanley Lock flight until 1 pm on Monday 3 August. We had plenty of time. But Friday was hot, sunny – and windy. So we moped around the marina bruised by our previous experience until in the end at 3.45 pm when the wind had dropped a little, we went for it. And it was fine. Up the locks we went, and four hours later moored just around the corner from Lathom Junction, close to the Ship.
Wait! I hear you say. That's the wrong direction for Liverpool. We had a sneaky plan. Kev was out training on The Katie K and we were going to do our best to make sure we passed him. And we did – twice; once on the way to wind at Parbold and again on the way back. We took a lot of flack for the bristling zip ties that were holding our front swag in place too.
That night we moored just before the other Ship pub at Haskayne, opposite some permanent moorings. While we were getting ready to go out and eat there was a tap on the boat. It was Stewart, the manager of the Mersey Motor Boat Club moorings, because that's what they were. He'd told Kev and Sue one of their offspring had turned up and had moored slap-bang opposite The Katie K's spot. We had absolutely no idea.
The next day was very chilled. We only cruised from Haskayne to Melling. There were lots of weeds and water lilies on the canal.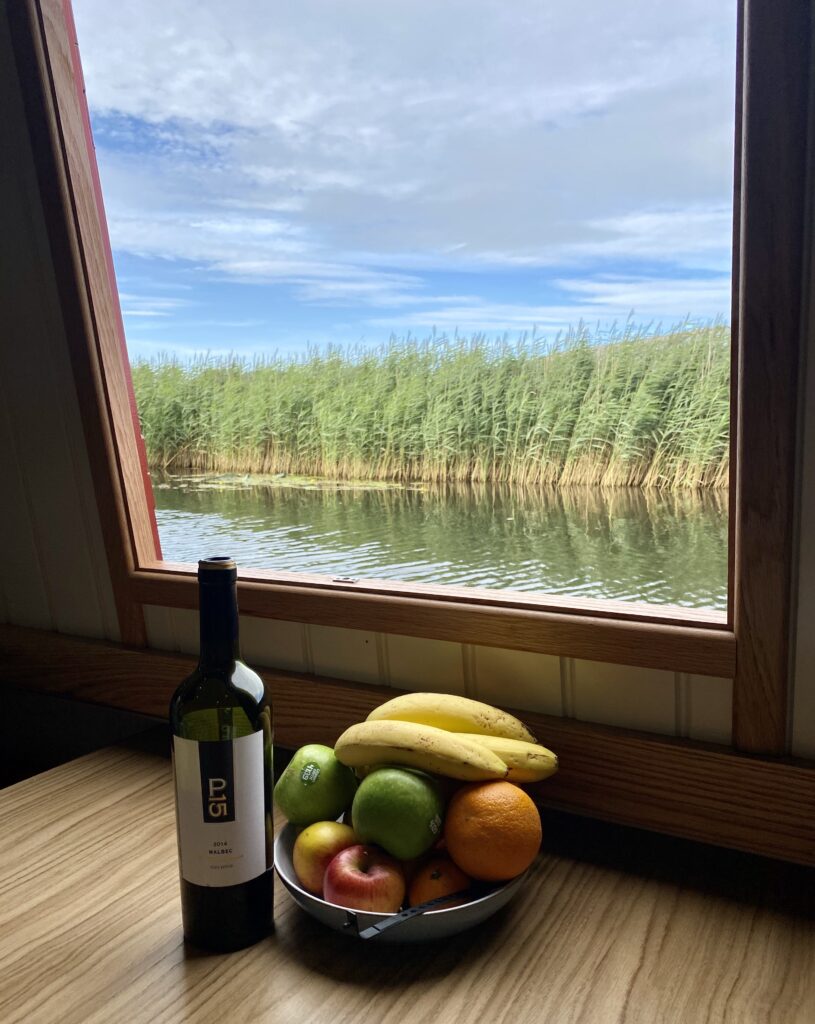 On Monday the alarm went off at the ungodly hour of 5.30 am. We pulled pins at 6.30 and raced at 4 miles an hour for Swing Bridge 9, which closes to canal traffic during the rush hour. We made it with 15 minutes to spare which meant we had a leisurely cruise into the city, instead of the mad rush if we'd left it until 9.30. Who wants stress when you live on a boat?
We reached the top of the Stanley Locks just after 1, having refilled the water tank and emptied everything else at Litherland. The lock keepers were really friendly and very complimentary about Beau Romer and Bickerstaffe in general. At the bottom of the locks we were off on our adventure, solo boating past the Tobacco Warehouse and the Titanic Hotel, turning left at the Dockers Clock and into Sid's Ditch. Now, only we could get lost in the Docks. We missed Pnnces Lock altogether and Martyn was getting really twitchy when he declared he could see the bottom. No harm was done, we were soon through Princes Lock and the tunnels, emerging in front of the Three Graces and going under the Museum of Liverpool. At Mann Island Lock Jules, the lock keeper, was ready for us. Turn right towards the chimney he said, turn right at the chimney, left at the double-decker bus, into Albert Dock, try not to hit anything historic and cross into Salthouse Dock and our berth. Sounds bizarre, but it all made perfect sense.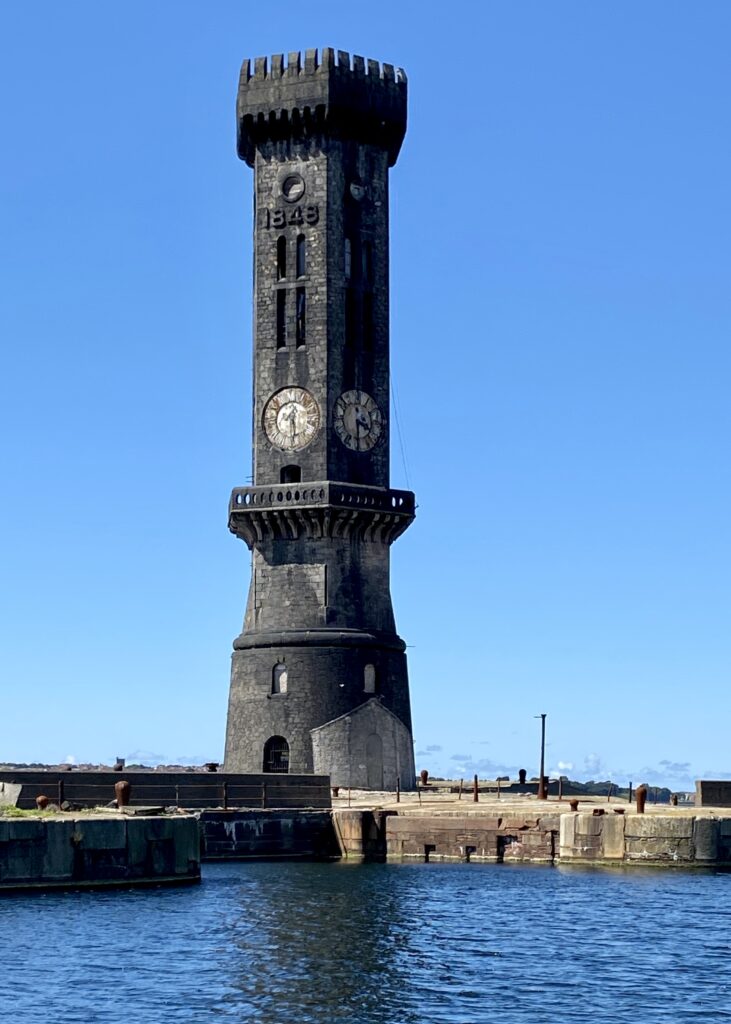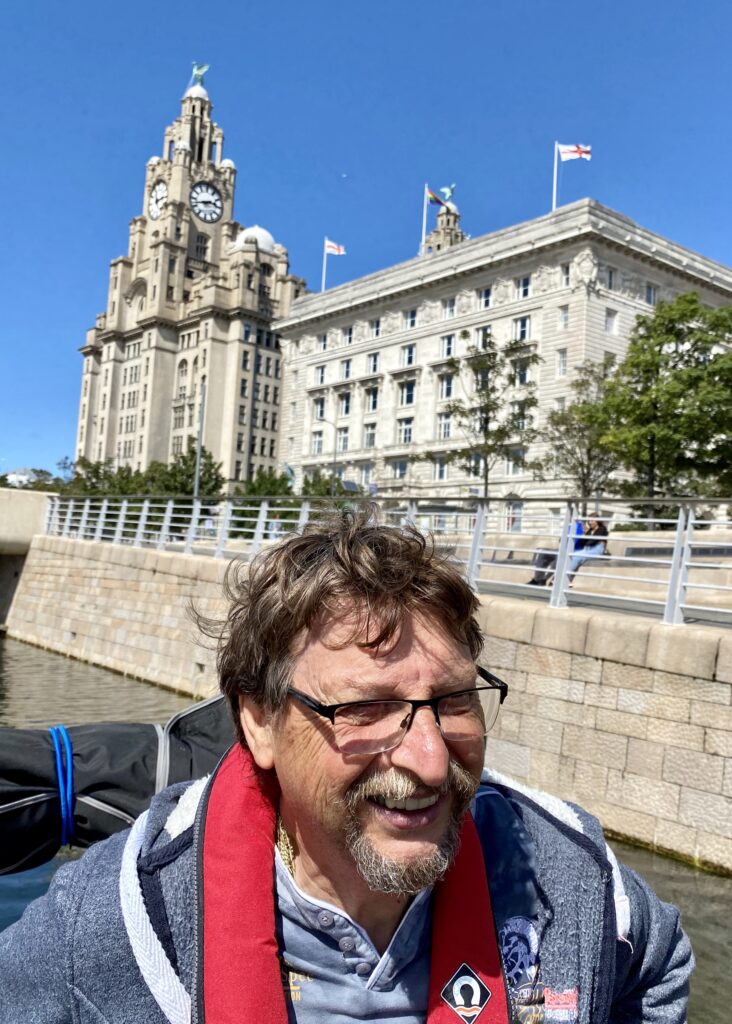 Salthouse Dock is saltwater, not fresh, and is full of jellyfish, their lazy, pulsing swimming fascinated Martyn. Listening to the anodes fizzing away at night fascinated me.
While we were there despite lockdown we visited the Tate and Walker Art Galleries, enjoyed a Beatles Walking tour, checked out the Anglican Cathedral and ate in a couple of really nice places. I pass on Sue's recommendation of the Italian Club Fish on Bold Street. It's casual, and oh, so tasty.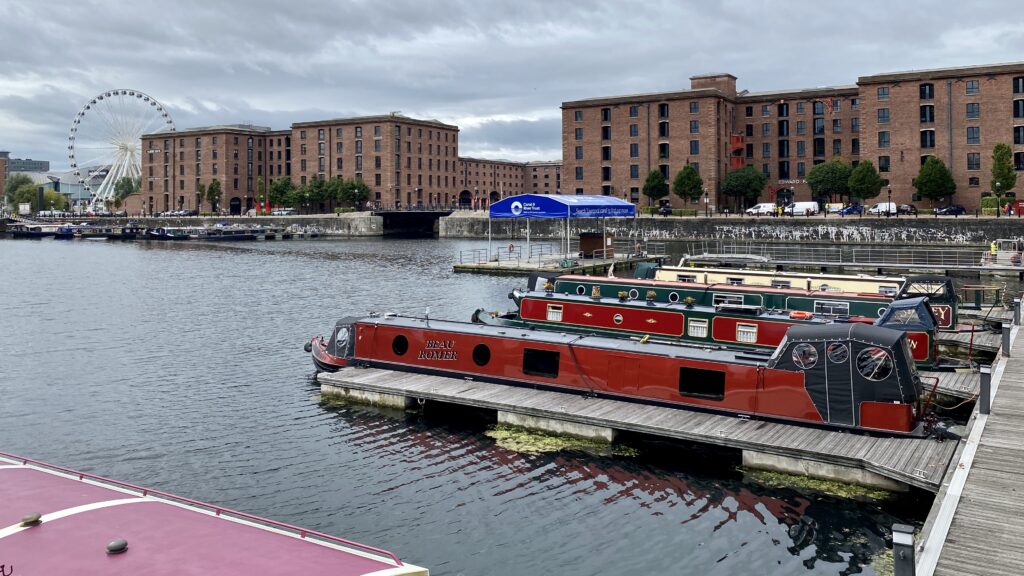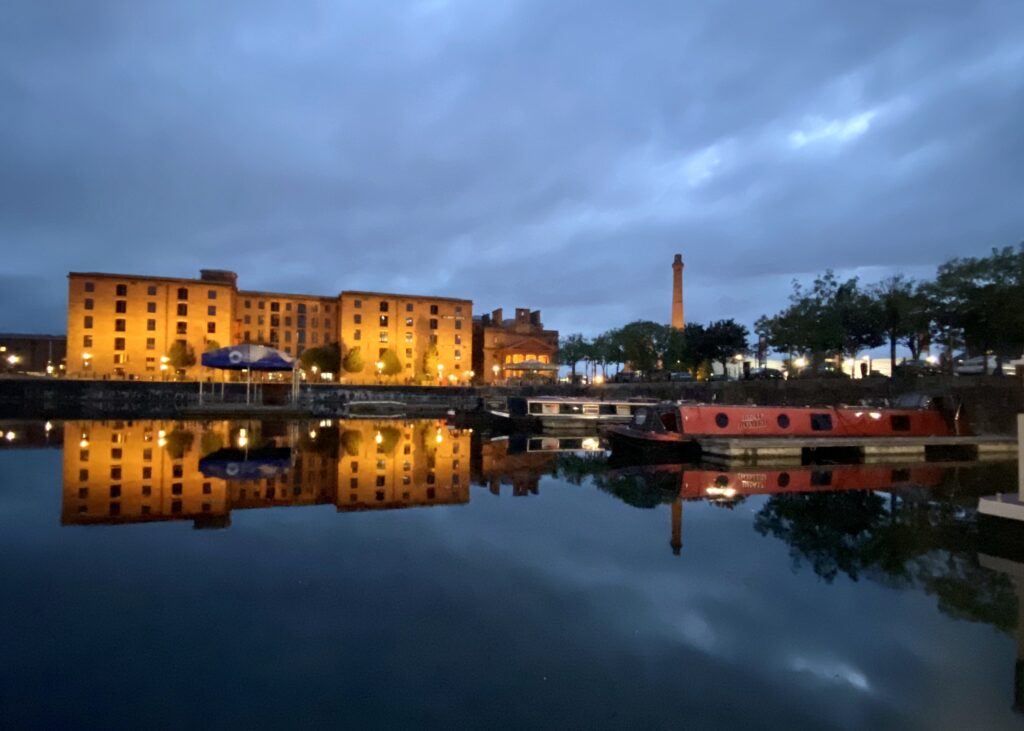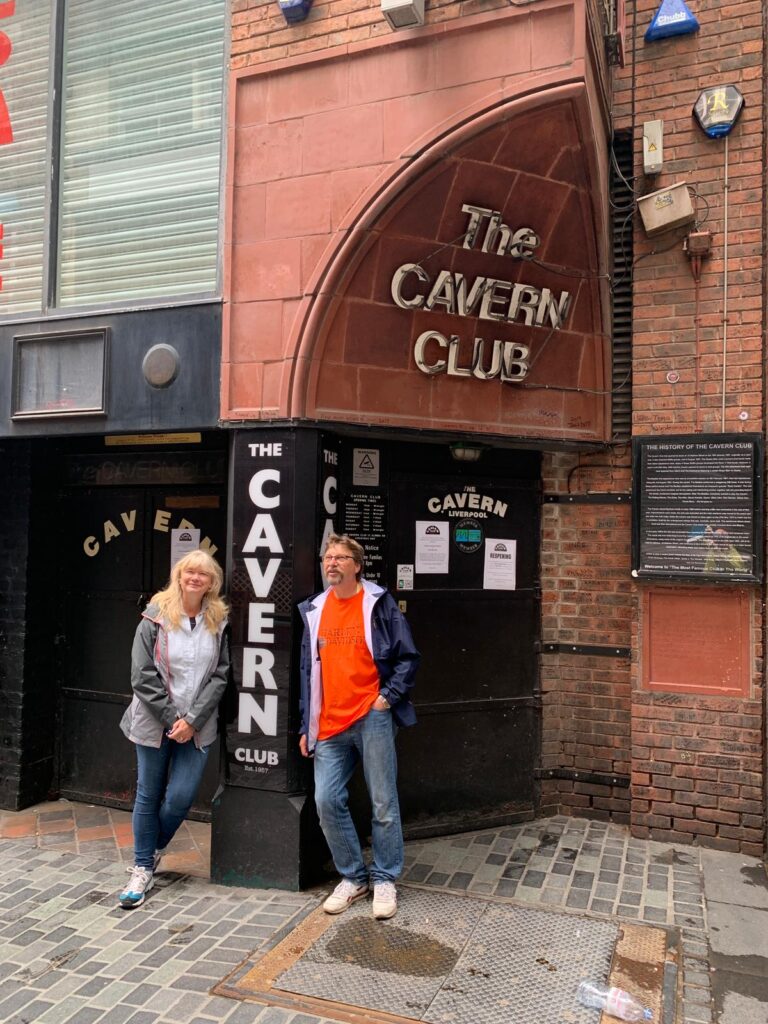 All too soon it was Friday morning and time to leave. After a slight delay and the CRT fixing a problem with the sea lock gate (someone had left a switch set incorrectly) we were off. On the way out we passed Trevor and Marina on Conveyancer, two of our Marina neighbours, and James on On a Whim going in. The delay meant we were likely to be stuck on the wrong side of the swing bridge again, so we hung around at Litherland for a couple of hours and finally got to Melling at 7.30pm.
The worst thing a out going into Liverpool is the rubbish in the canal. At one stage we passed a sofa, a chair and a door complete with handle (I wondered where te rest of the living room was). We counted two Lightning McQueens, and goodness knows how many footballs. On the way out Martyn was down the weed hatch three times, as well as the plentiful weed, I'm assuming caused by the lack of boats this year, he took off a bin bag and some really tough industrial plastic. I sacrificed a kitchen knife to that, I new we should have brought the old bread knife with us. There's some really interesting grafitti too. Someone really has it in for Adrian Ferris if you read the walls!
One the way back we moored outside the Saracens Head at Halsall (yes, we had a couple of pints in the beer garden) and then on Sunday at Burscough. Sumday was lovely. I shopped at the Wool Boat, and then we saw Kev training another pair of Bickerstaffe owners. We got snapped having a chat mid canal, and apparently that photo ended up in the local papers.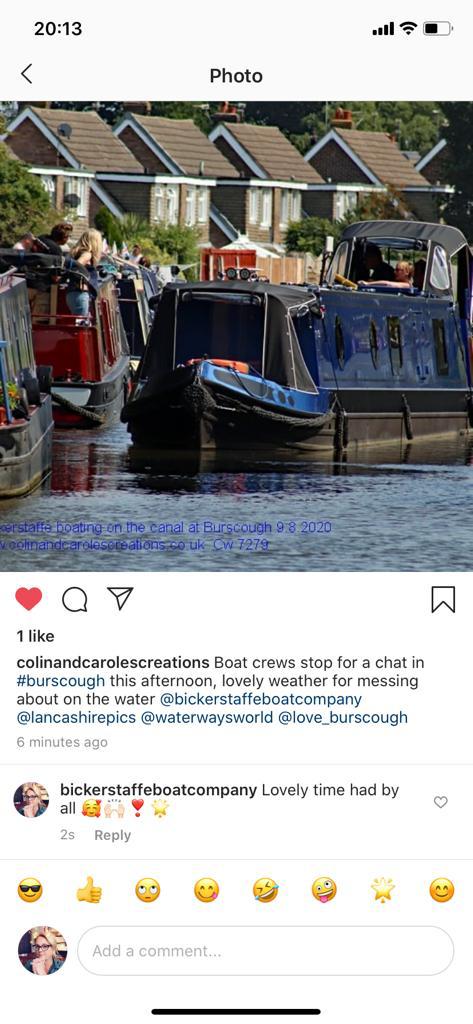 Total figures for our Liverpool trip, 63 miles, 3 furlongs, 24 swing bridges and 26 locks.
Liverpool, we'll be back.