In 1770 work began on the Leeds and Liverpool canal, at Halsall, where I'm writing this post. We're moored outside The Saracen's Head, and full of the excellent meal we've just enjoyed there. Alongside the canal by Bridge 25 there's a statue known as the Halsall Navvy. He stands there in commemoration, emerging from the ground, full of power and stoicism, and really makes you think about the navigation engineers who dug out the canals, cuttings, and tunnels; who constructed the locks and bridges with nothing more than picks, shovels, wheelbarrows, and their own hard labour.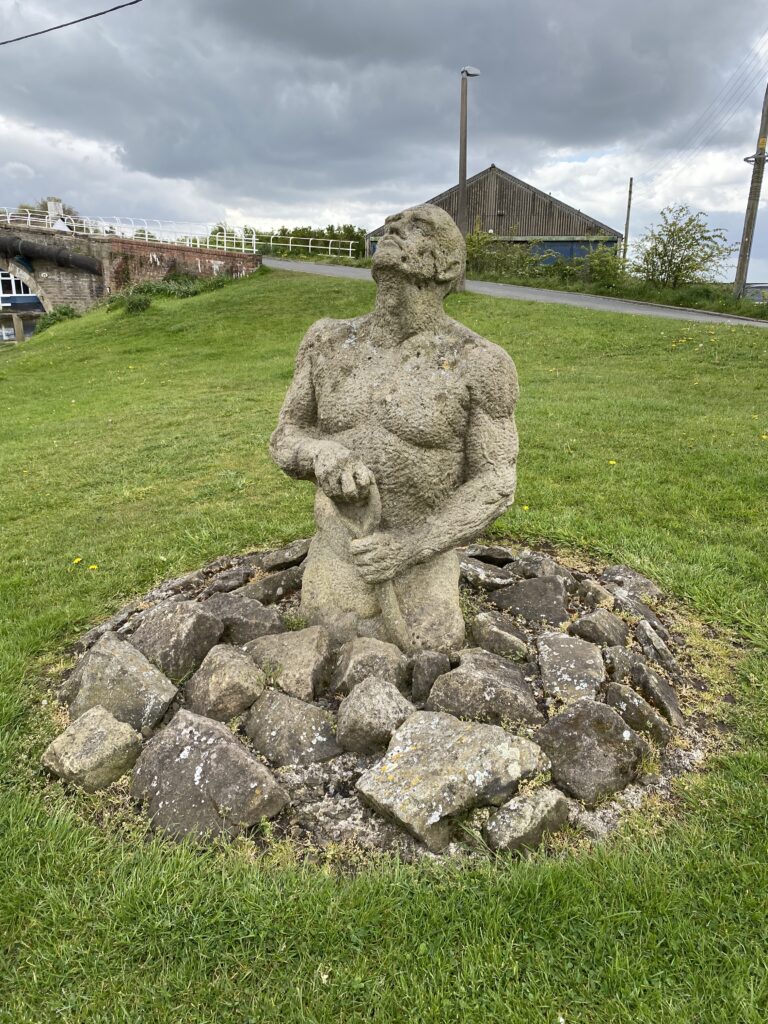 It's time to think of beginnings and activity after months of loitering. We've been out of the marina for a couple of weeks now, embarking on at least 5 months of travel. We had to wait for the boat to come out of the water to have its cutlass bearing replaced (it's part of the stern gear – we must have hit something underwater that dislodged it). That was a scary day. I didn't stay on the boat as it was floated onto a dolly and hauled up a ramp behind a tractor. I saved the white knuckle ride and watching the stern go underwater from the stern itself for Martyn.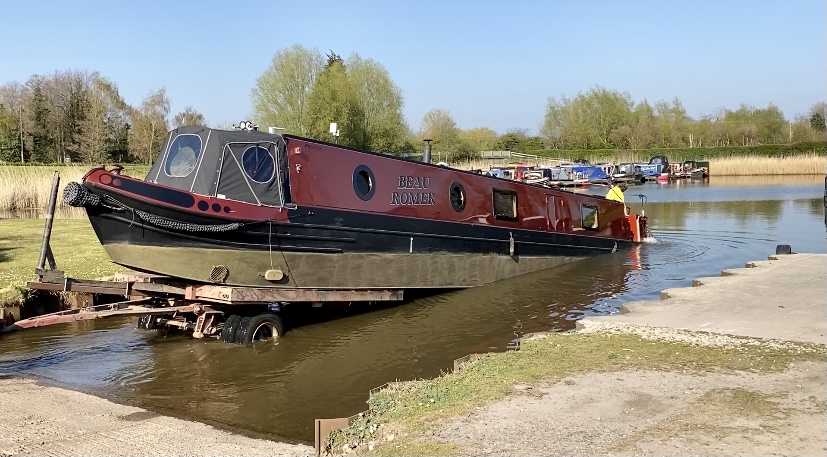 All's good now, apart from an annoying whine we're all scratching our heads trying to fix. We took a tentative cruise down to Tarleton but didn't go through the sea lock on to the Ribble Link. We turned around and cruised familiar waters, to Parbold with friends from our marina, and then into Liverpool for a week.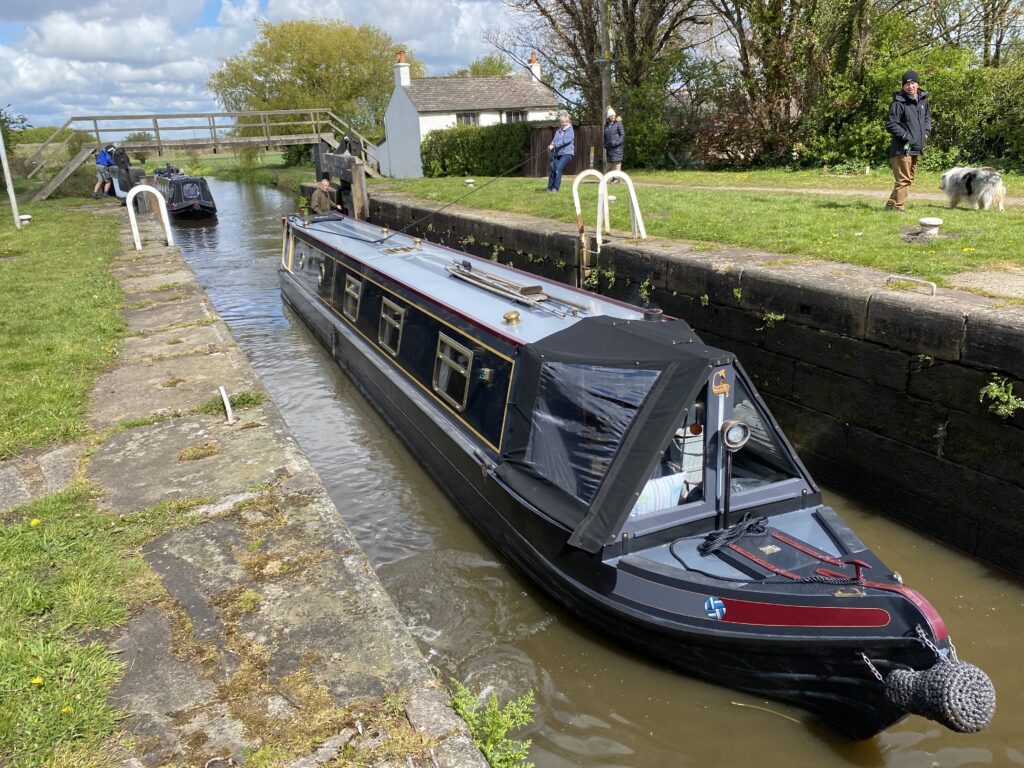 We couldn't have asked for a better start to the cruising season. There were 4 Bickerstaffe boats and crews snuggled up in Salthouse Docks. A small rump of the Bickerstaffe Massive was in town.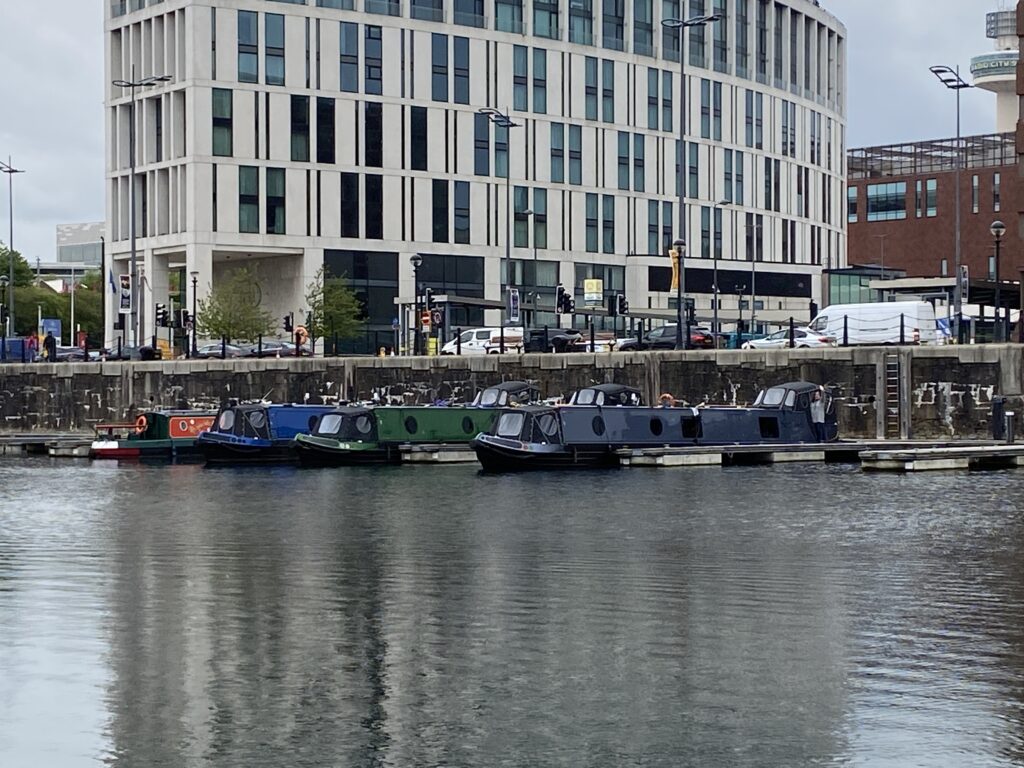 We enjoyed the thrills of a ghost walk, visited the Museum of Liverpool on the day it re-opened post-lockdown, ate too much good food and drank too much good beer (outside!). We were joined by several friends while we were there, made new ones, took a cruise to the dock system's far end and generally had a brilliant week.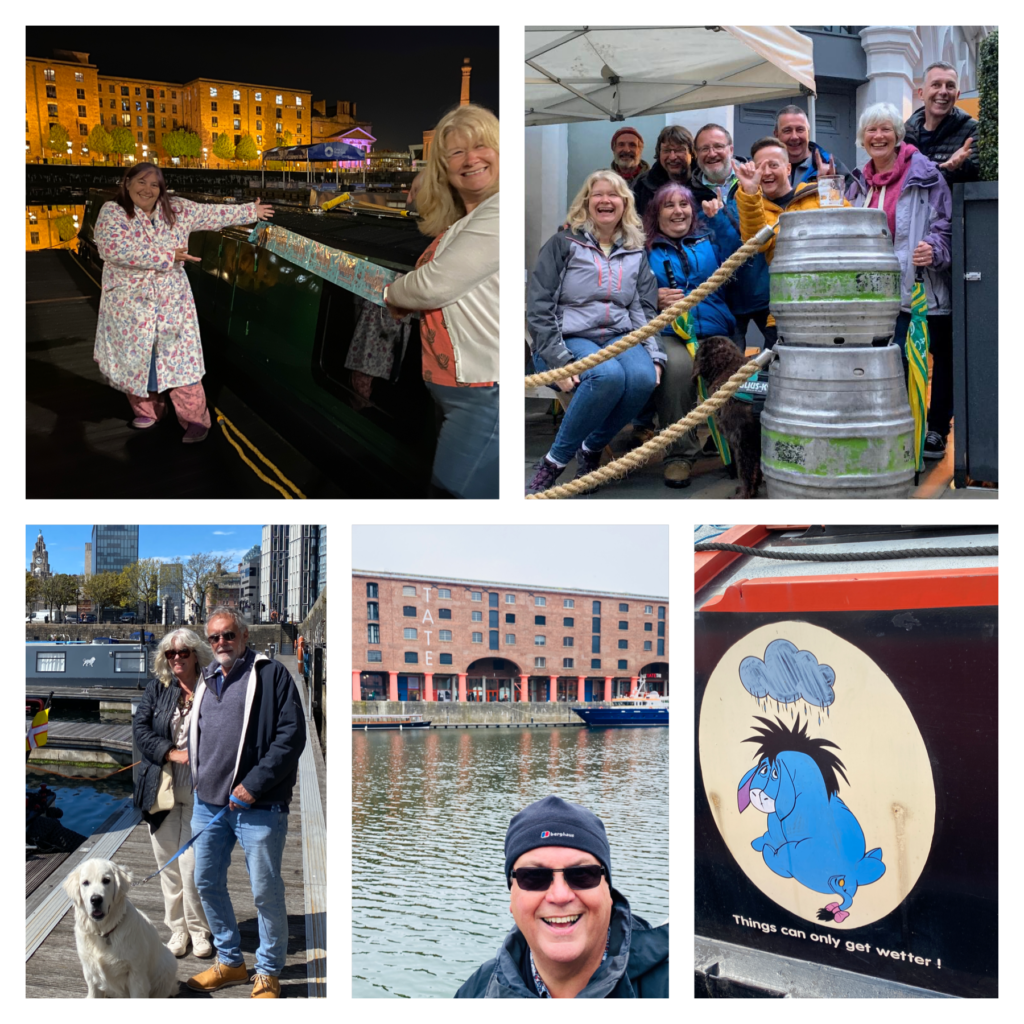 At this time of the year the canal is teeming with new life. We've seen ducklings, Canada goslings (sad the cute little yellow fluffy things must grow up into noisy antisocial Canada Geese), coots and moorhens on their floating nests with almost identical chicks, and tadpoles basking in the rare sunshine. Even the jellyfish in Salthouse Docks are about a quarter of the size of the ones we saw last year. There's a feeling of new beginnings and optimism.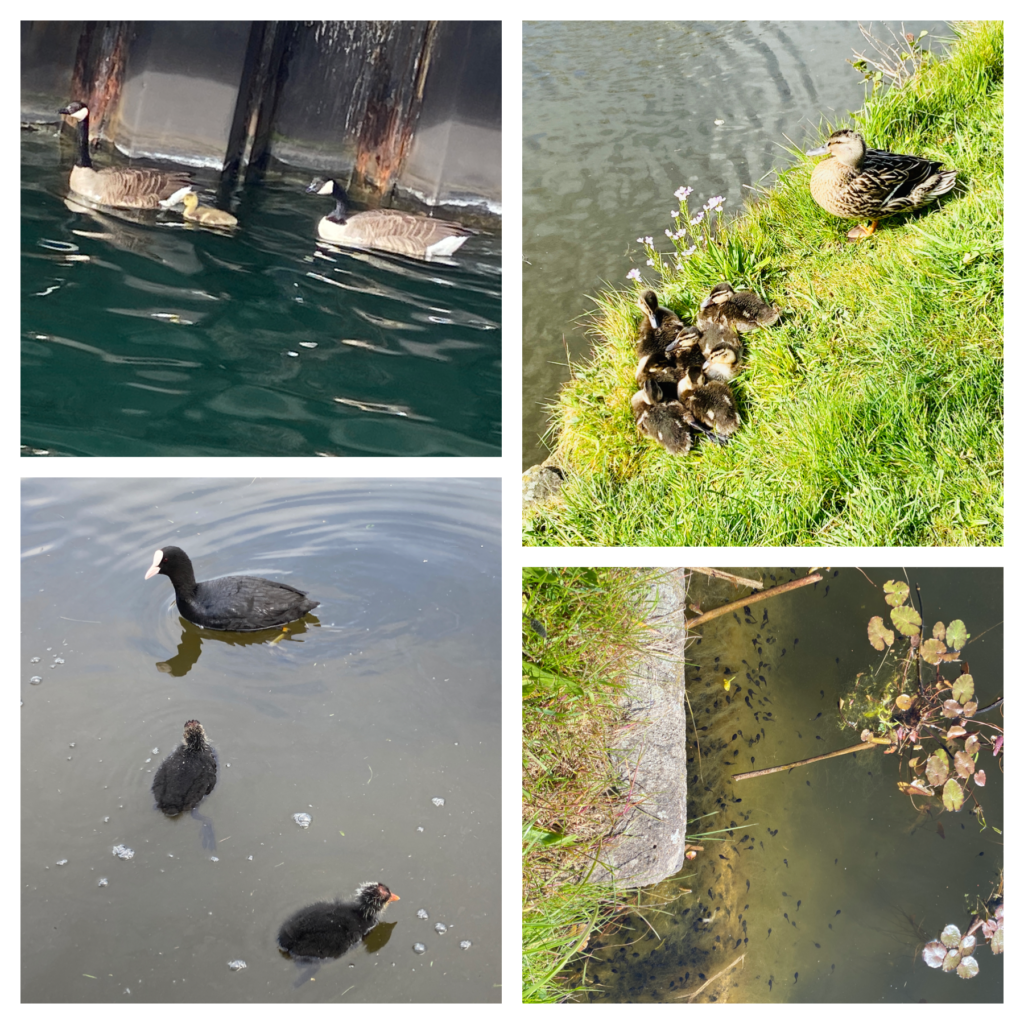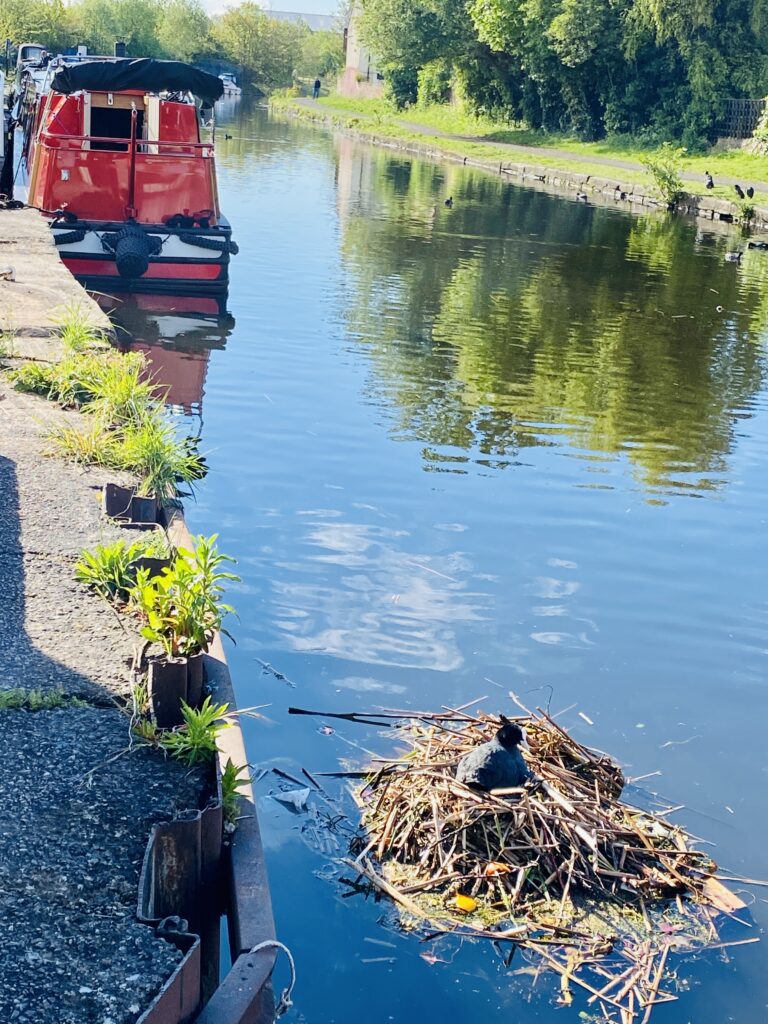 On the way back from Liverpool we made a pitstop at Aintree Racecourse, site of the Grand National. I think I must have walked every inch of the 4 miles, 856 yards of the course itself, for that's where I got my second Covid-19 vaccination and Google Maps let me down. Every gate to every footpath it tried to make me take was locked, so I took an extremely long route from the banks of the canal to the building where the vaccinations were taking place.
To finish this post off, we are known to be more than a little accident-prone. Here's the list of offerings we have made to the Canal Gods so far since leaving our winter mooring:
One mooring chain
One handcuff key
One LED nightlight
One Jacksonville Jaguars baseball cap
One side fender
Oh dear!