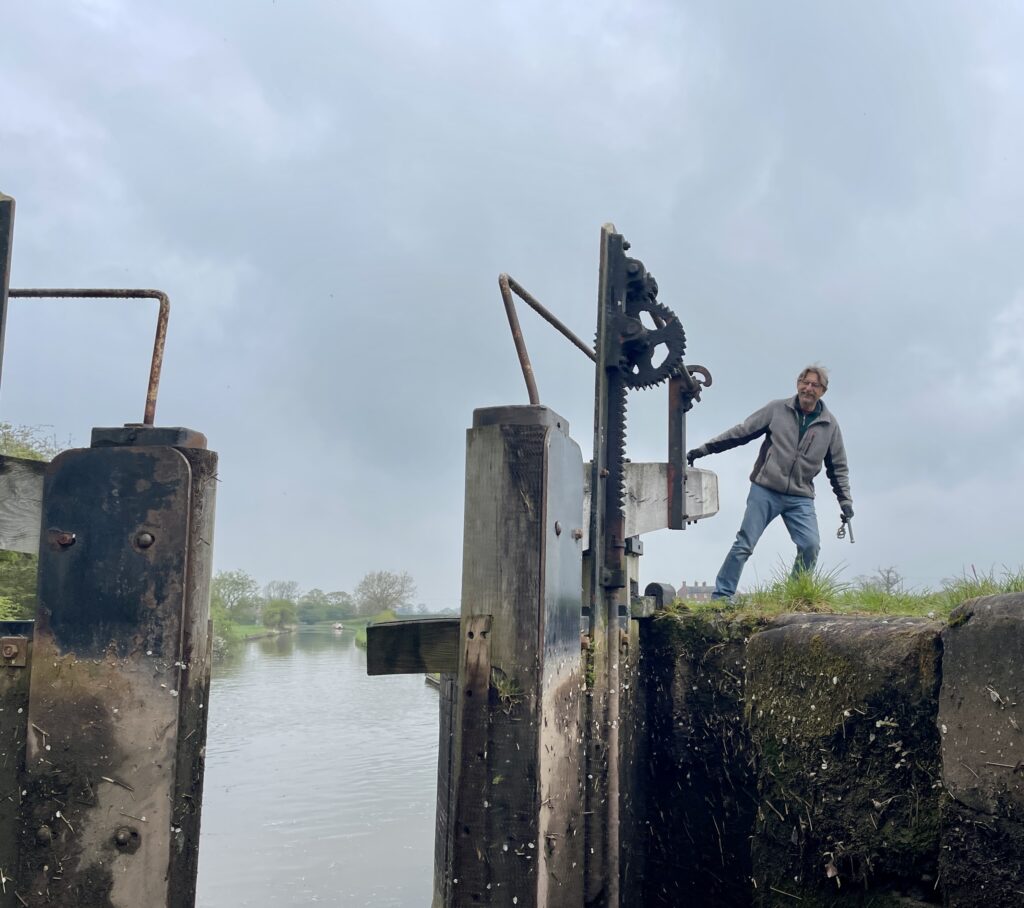 At the tiller chugging along at a stately 3mph, I frequently get earworms. Very often something I see or hear will prompt it. One of my favourites is The Slow Train by Flanders and Swann. I must have been a toddler when I came across this marvellous pair and their comic songs, and the one I remember then was the Hippopotamus Song, mostly because it featured on a little 45rpm compilation record of suitable songs for children ("Mud, mud, glorious mud, there's nothing quite like it for cooling the blood …").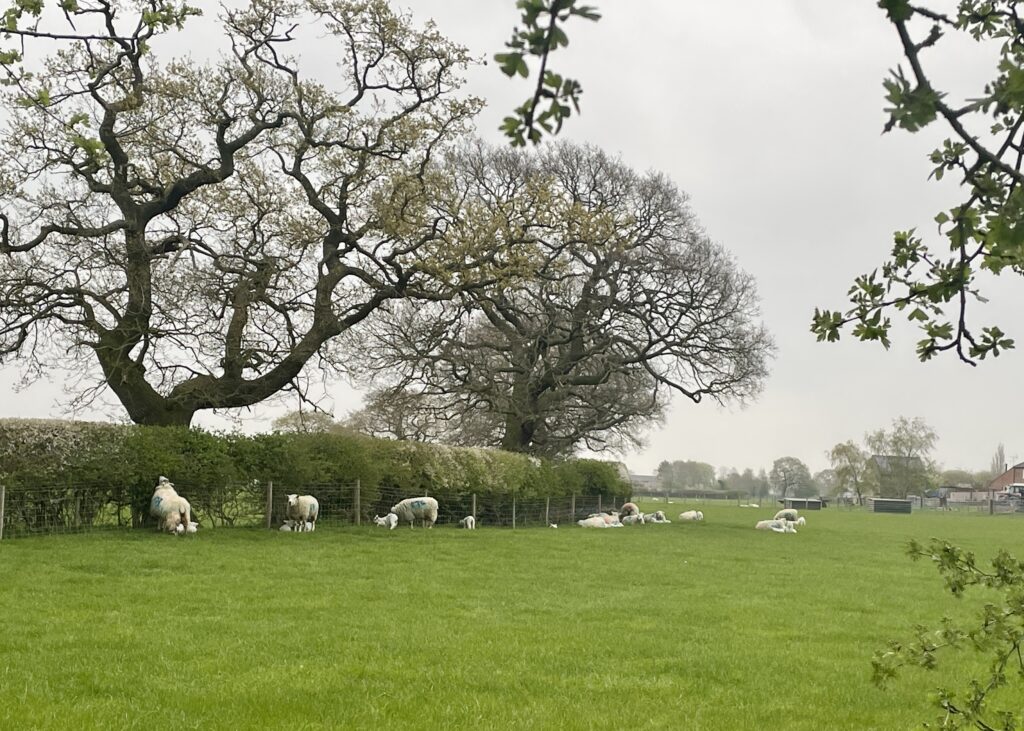 I get really nostalgic about The Slow Train. Railways tend to follow canals, and as well as the names in the song that are familiar from home – Blandford Forum and Midsomer Norton – we pass some on the canals. This week it was Mow Cop (although not I think the famous one) and Audlem. I remember Scholar Green too, and at some point we'll collect Selby and Goole. When you pass under so many disused railway bridges and see track routes on the map it does make you wistful for those old forgotten transport routes (even though I don't remember the railway network pre-Dr Beeching) and marvel at how long the canals themselves have lasted.
But before we got to lovely Audlem we made a scheduled stop at Hack Green. It was one of the reasons we decided to head down the Shroppie instead of taking the direct route south down the Trent and Mersey. We planned to visit the Secret Nuclear Bunker last year but our plans were thwarted. This time we made it.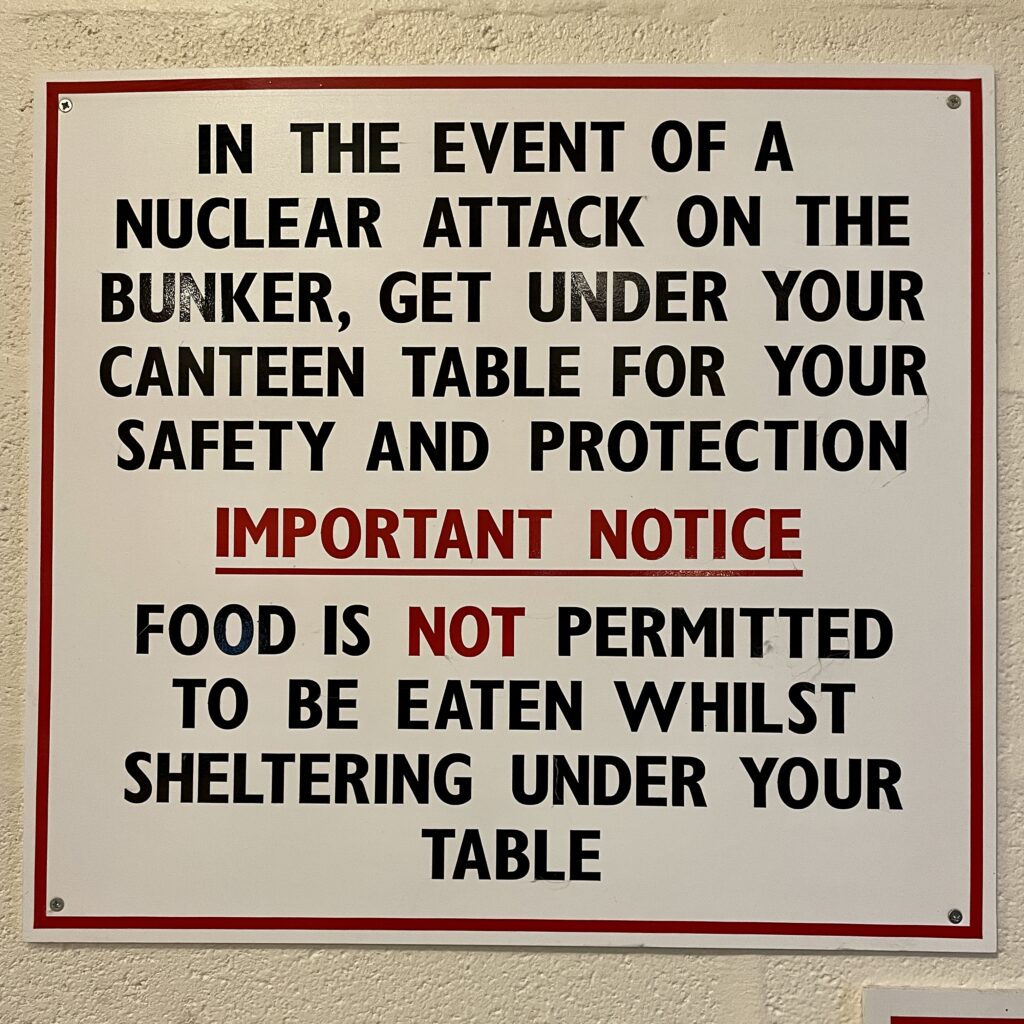 The bunker is run by a Charitable trust and is a museum of civil defence and the Cold War. Very sobering it is too. I'd always imagined that type of facility to be somewhere the great and the good would take refuge in case of nuclear war but came away with the strong sense they would have to do their best along with us plebs. The bunker was going to be all about communications and keeping the government going if there would be anything left to govern. The outlook for the rest of us was very bleak indeed. See Flanders and Swann again – 20 tons of TNT.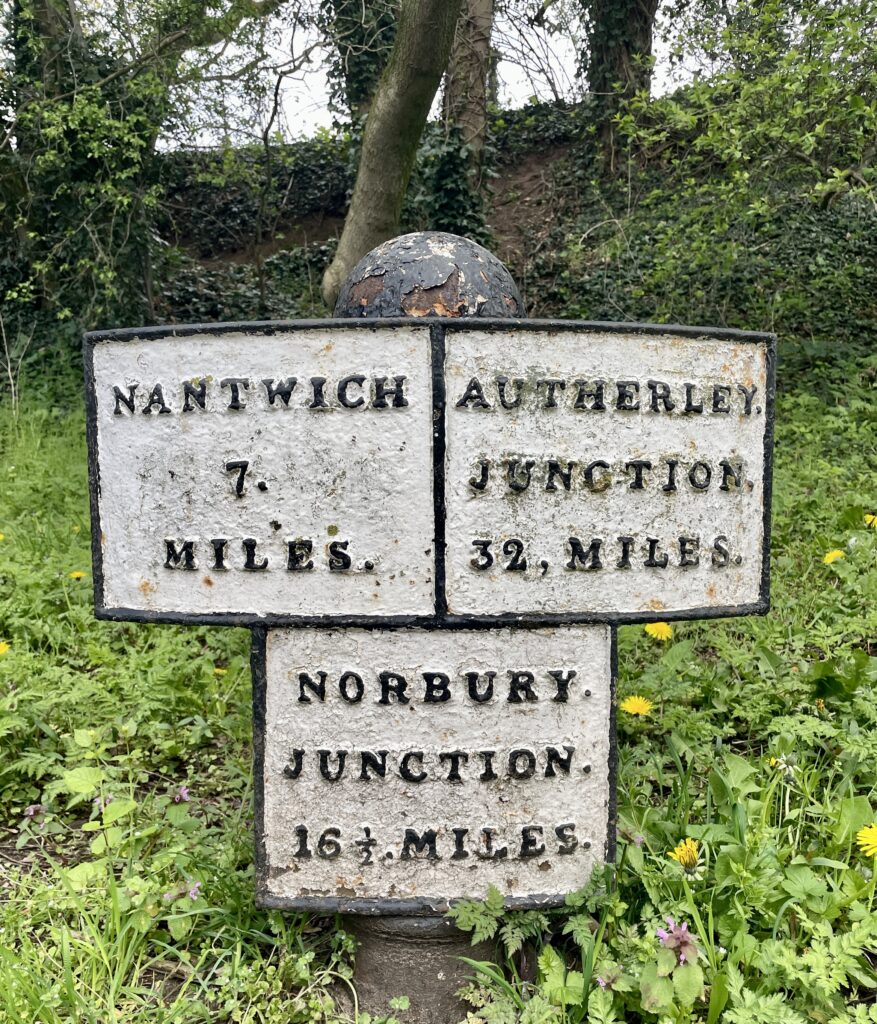 Next was lovely Audlem, one of our favourite canal villages. It's nice to see the Shroppie Fly pub open again and apparently according to one of the locals I spoke to, doing well. We trotted to Oxtail and Trotter, the butcher in Cheshire Street, and I even managed to pick up a Mike Jupp jigsaw to add to our collection from the very popular charity shop. There's a mill shop on the banks of the canal selling craft supplies and general canalia, although it's up for sale because the owners want to retire. I hope they find a buyer soon, and someone who will take it on as a going concern; there's always something to buy there. Audlem is a pleasant place to linger, although this time we didn't. Never mind the water hose decided to shoot out of the tank while we were using the services there and drench the well deck. I won't hold it against the place.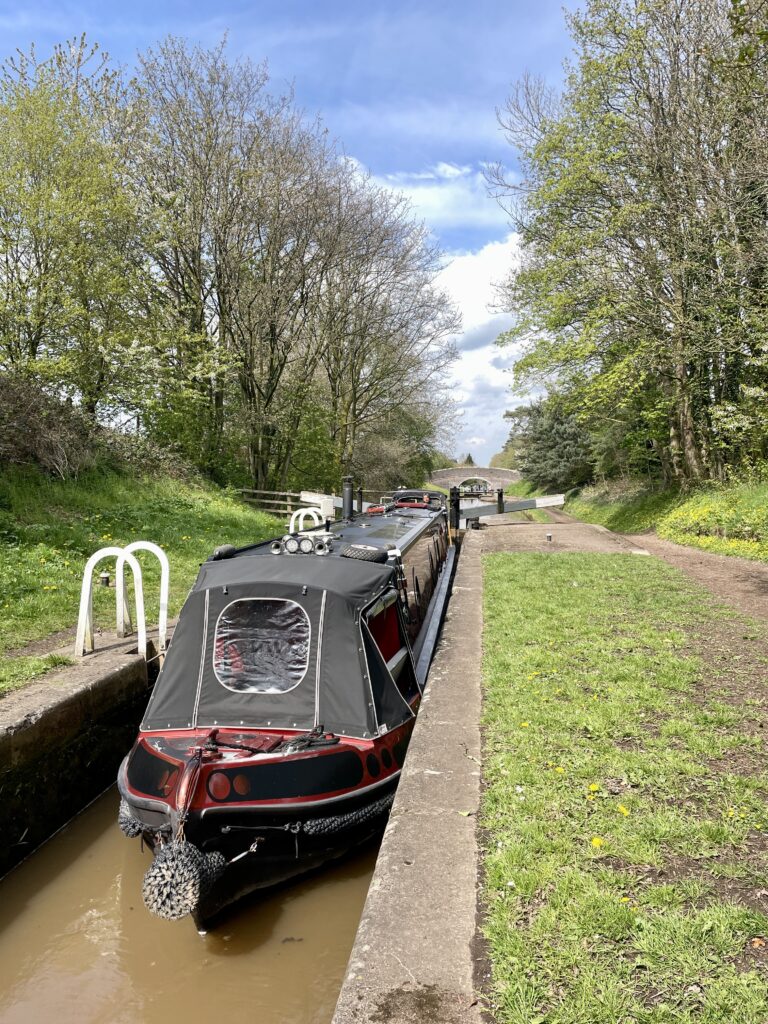 There are 15 locks on the Audlem flight and some of the bywashes were rather spirited on Saturday. Martyn was at the helm and they certainly tested his skills. We enjoyed a reward of cake and ice cream from Kinsell Farm at the top, and the lady who runs the little canalside stall there to tempt people even kindly shut the last gate for us.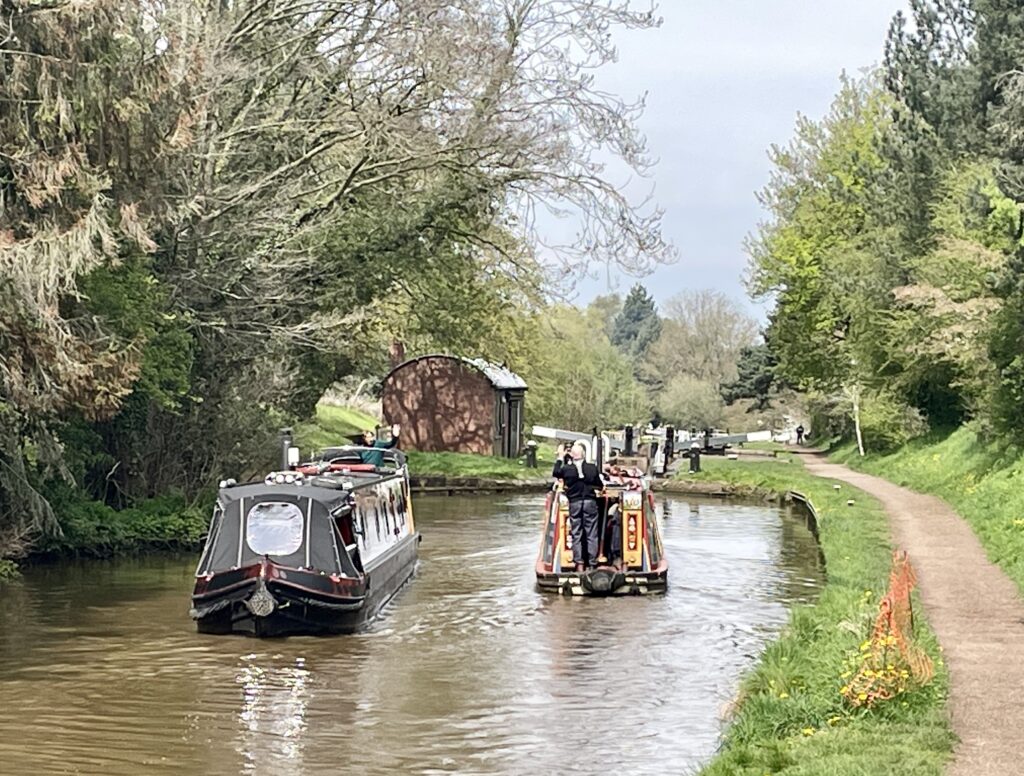 Yesterday we cruised down the Adderley locks into Market Drayton, and went to the Red Lion for Sunday Lunch, a real treat. Apparently, Market Drayton is the home of gingerbread due to its links with the spice trade routes through Clive of India, who was a resident of the town. Perhaps we should try some, although after lunch I don't think I've got anywhere to put it!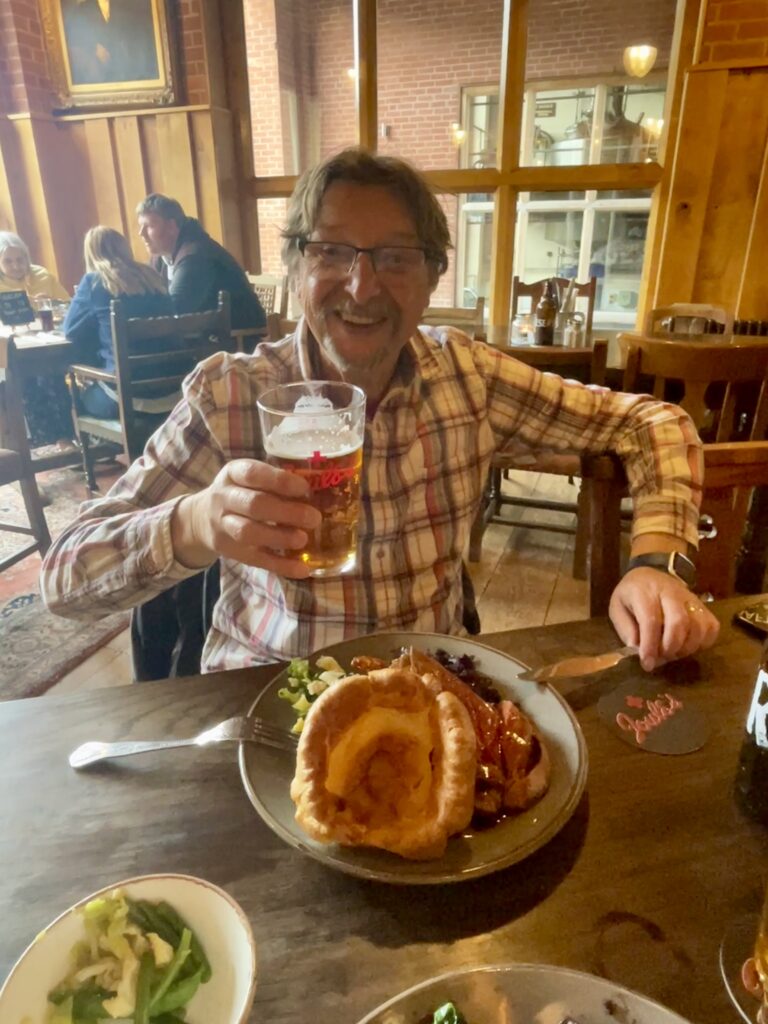 I'm not going to bleat on about repairs and suchlike this time. Things seem to be looking up. I'll just end with a quick progress report. So far this year we've covered 102 miles and 2.5 furlongs, travelled through 3 tunnels, and come through 46 locks.