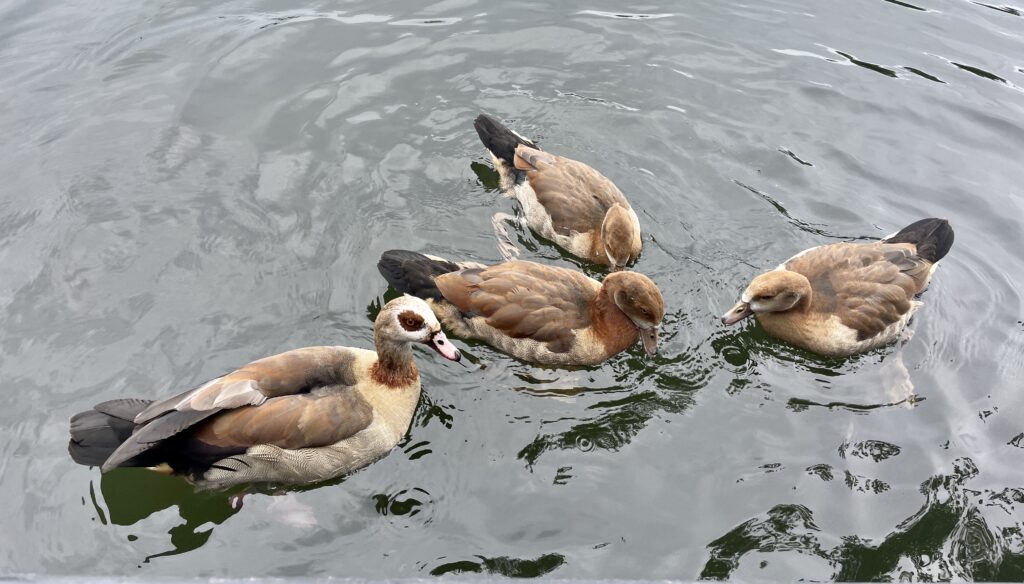 Sorry, it's been a while, so here's a rundown of our exploits over the past few weeks – not what I thought I was going to write about at all. We liked Uxbridge, and it didn't seem to be remotely in the grip of byelection fever while we were there. Martyn and I snuck off for lunch and then unexpectedly to a Muse concert at Milton Keynes, courtesy of my old schoolfriend Alison and her husband Peter. It was our third time seeing Muse, and they were every bit as excellent as I remember.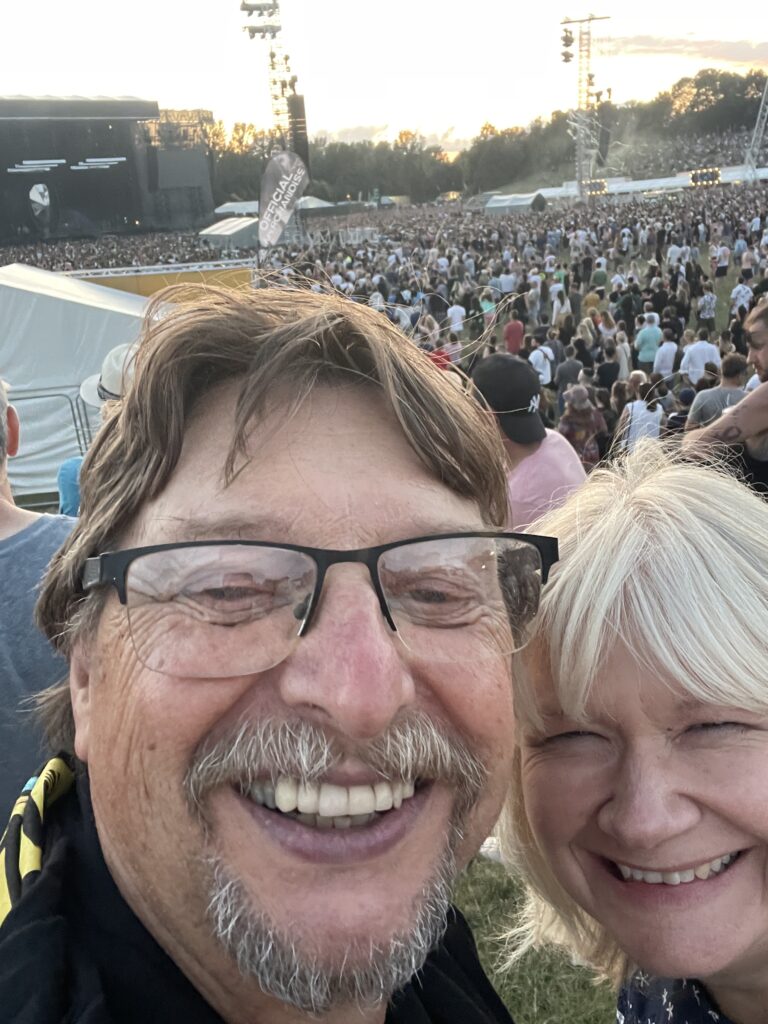 After Uxbridge, the Grand Union got a bit grim. I didn't think much of Hayes and Southall and there was a stretch where I've never seen so much rubbish, and we even spotted rats on the bank. It's not all roses and castles. We spent a couple of pleasant days at the top of the Hanwell flight but descending the locks there was a bit of a trial. First there was no water, then there was too much. Until the CRT properly came to our rescue Penny and I were running up and down trying to let water out at the bottom to mitigate the threat of the overflowing higher pounds. Consequently it took about three times longer than it should have done.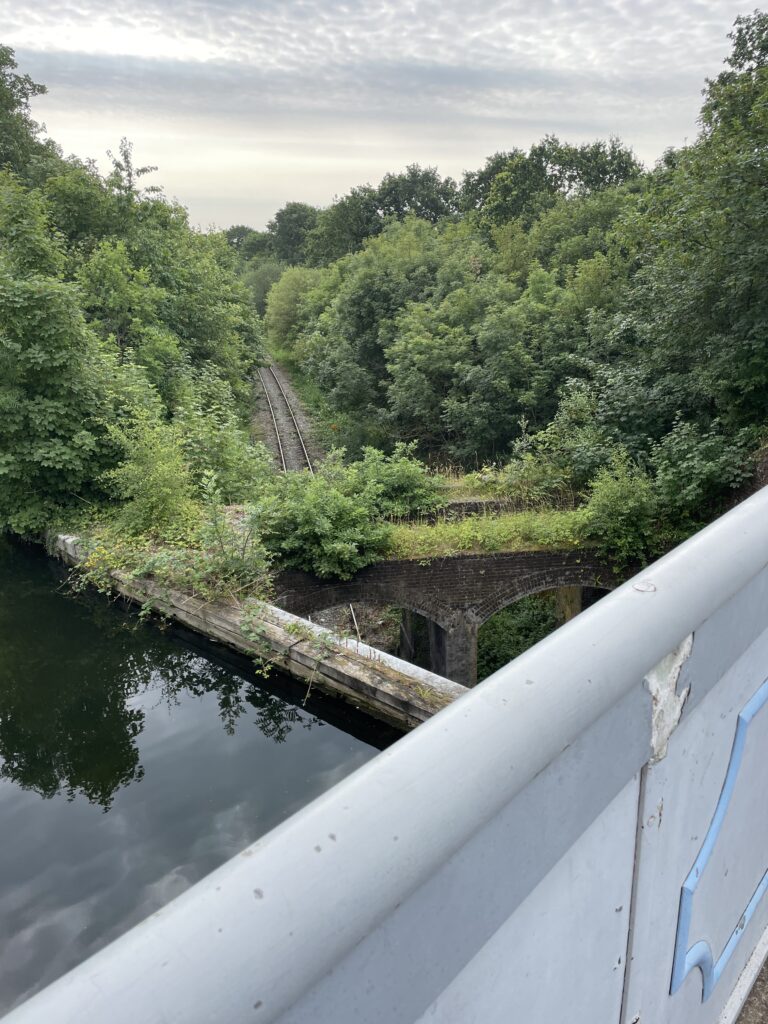 Finally we reached the end of the Grand Union Canal at Brentford and our date with the mighty River Thames – the tidal section between Brentford and Teddington. I was apprehensive; would we be swept away, overturned, or mown down by an Uber boat or a large sea-going vessel? Thankfully none of that happened. We sped along on the tide at a giddy speed for any self-respecting narrowboat, and reaching Teddington was a bit of a anticlimax.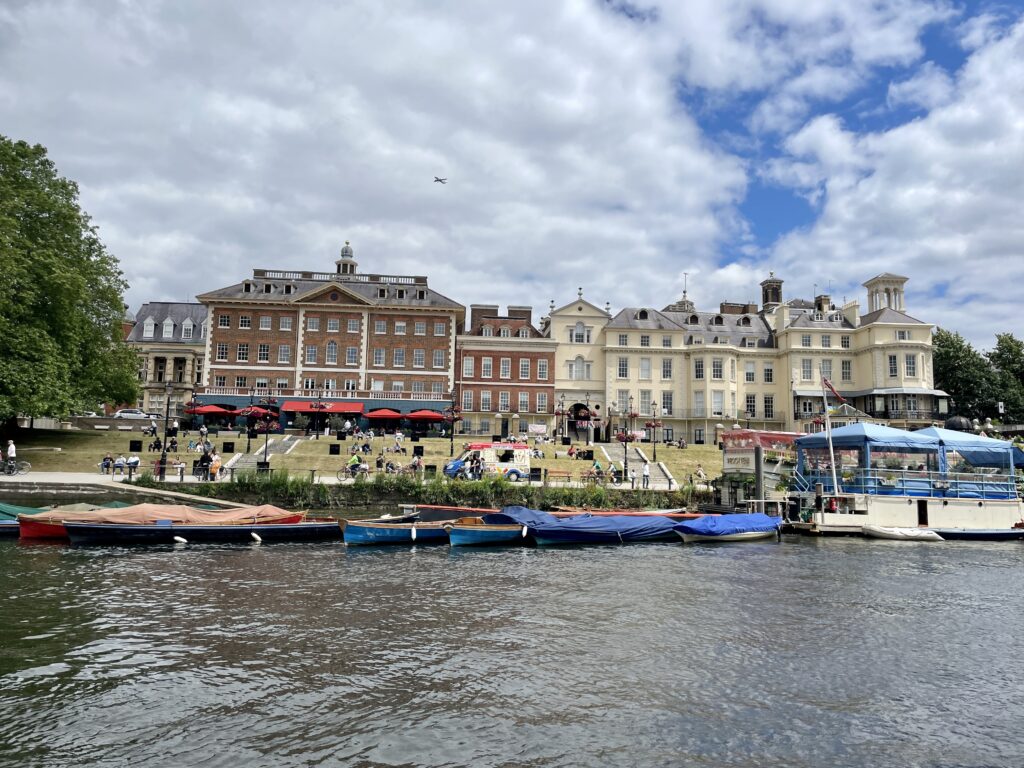 After Teddington we started to have the sort of problem that was going to become all too common over the next couple of weeks. "No mooring, no landing" the signs say, sometimes there's a bit of variation "Keep off" or "Private mooring". You start to feel a bit desperate sometimes for the feel of solid earth under your feet. It isn't exactly welcoming. There are visitor moorings. You can only stay on most of them for 24 hours before payment is due, so there's little temptation to linger either. You see boats moored squeezed in and moored up to tiny sections of the bank where the vegetation is just about pnetrable, but those spots with prevailing high banks are generally more suited to the river cruisers than to the likes of us. We might be king on the canals, but on the Thames we're distinctly second class.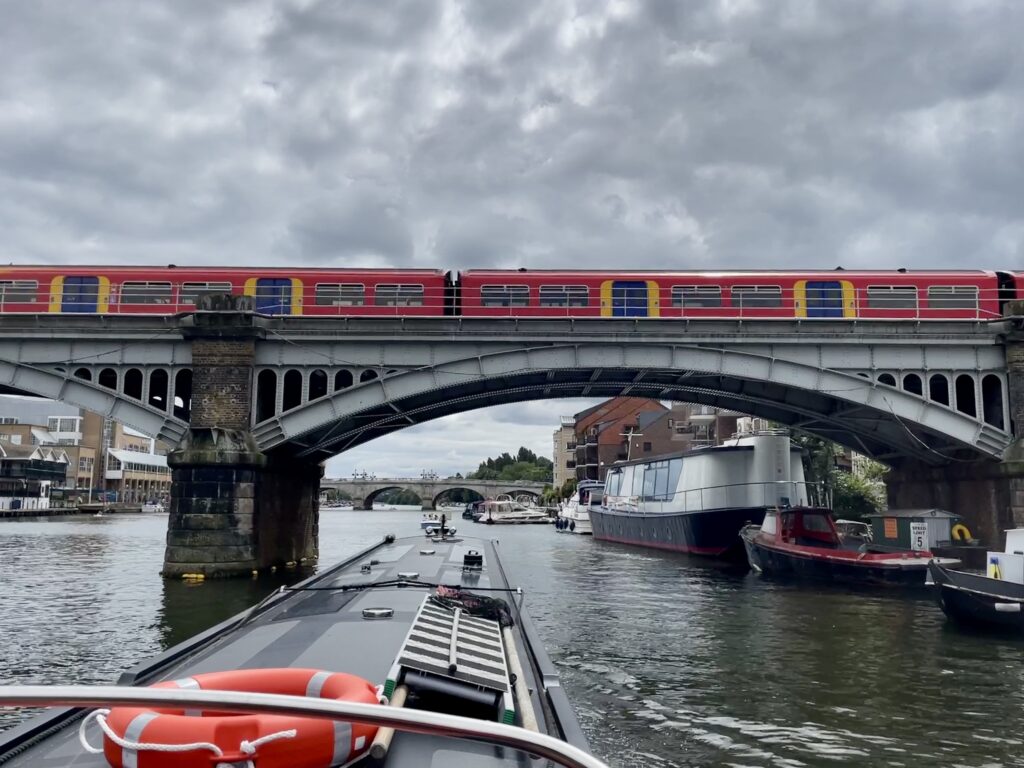 We did pay to stay in a few places. We lurked right outside the gates of Hampton Court Palace for the full five days we were allowed. I got to catch up with some old work colleages, and some of them came to see us on the boat. We even risked a short evening cruise, ever fearful that even at 8pm some opportunist would steal our mooring while we were out gallivanting.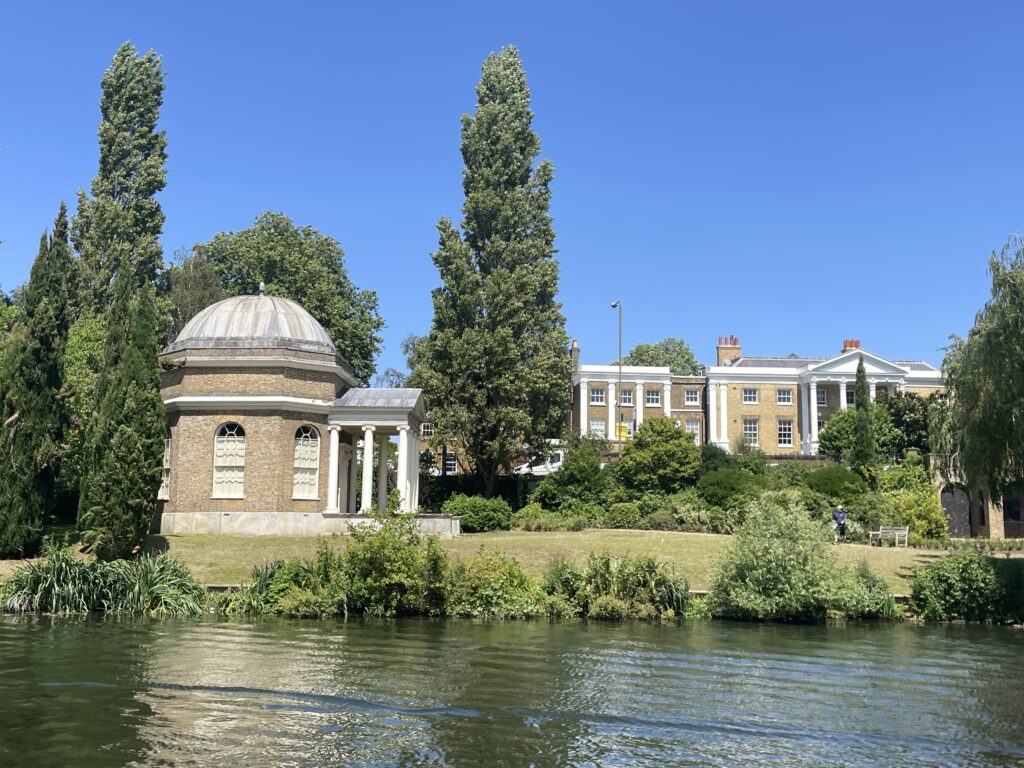 Windsor was a bit of a disappointment. We arrived on Monday, on the day that POTUS came to visit the King. Can't say I noticed, although we think we saw the Presidential helicopter leaving. Martyn and I ventured up into the town, which seemed to have a bit of a problem with the drains and an excess of homeless people. It was decidedly inconvenient that Windsor Castle was closed until Thursday and we decided not to stay and wait.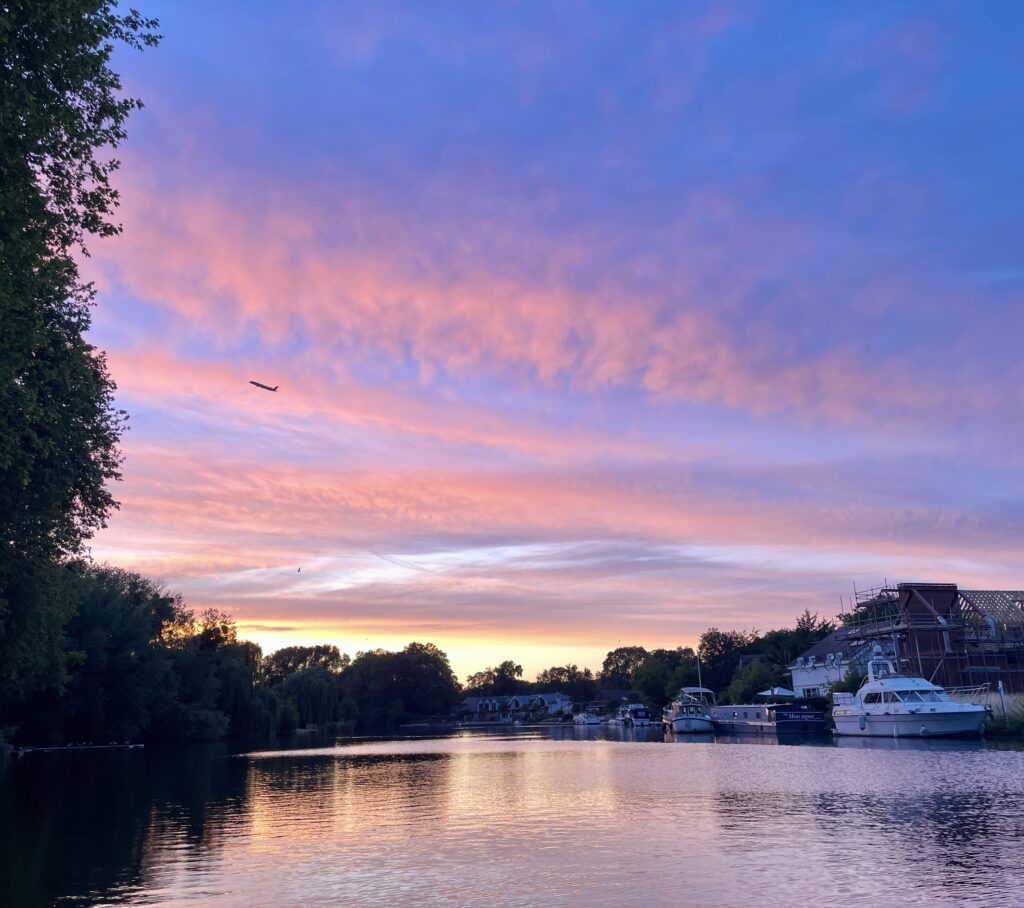 Marlow was a delight with a lovely park where we enjoyed watching a bit of evening cricket and some very nice window shopping. We had a good mooring and went on a very mini pub crawl. Sadly Henley-on-Thames was only a brief stop for shopping. We jammed into a very tight mooring – twice because I had to move to let another boat out. Three years ago I never would even have attempted it. A historic boat festival was in full swing and once again mooring was at a premium. We should have stayed put because then we had quite a long slog to Reading before we were able to find anywhere to stop for the night. An overnight at Sonning, rubbing shoulders with the Clooneys, wasn't going to be for us.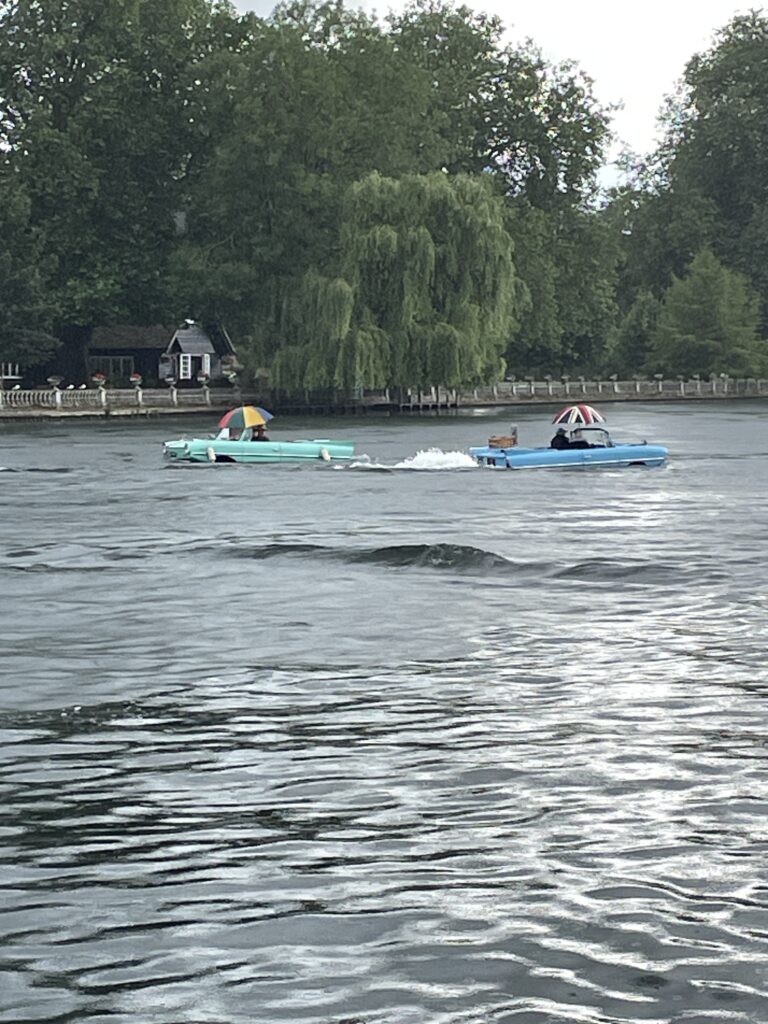 I hadn't meant to describe our sojourn on the Thames so briefly. I like to think that we'll be back to explore it at a bit more leisure in the future. It is so very different to the canals we are used to; so wide and grand. We kept the binoculars on the stern with us at all times, there's so much to see they came in very useful, if only to read the "No Moooring" signs.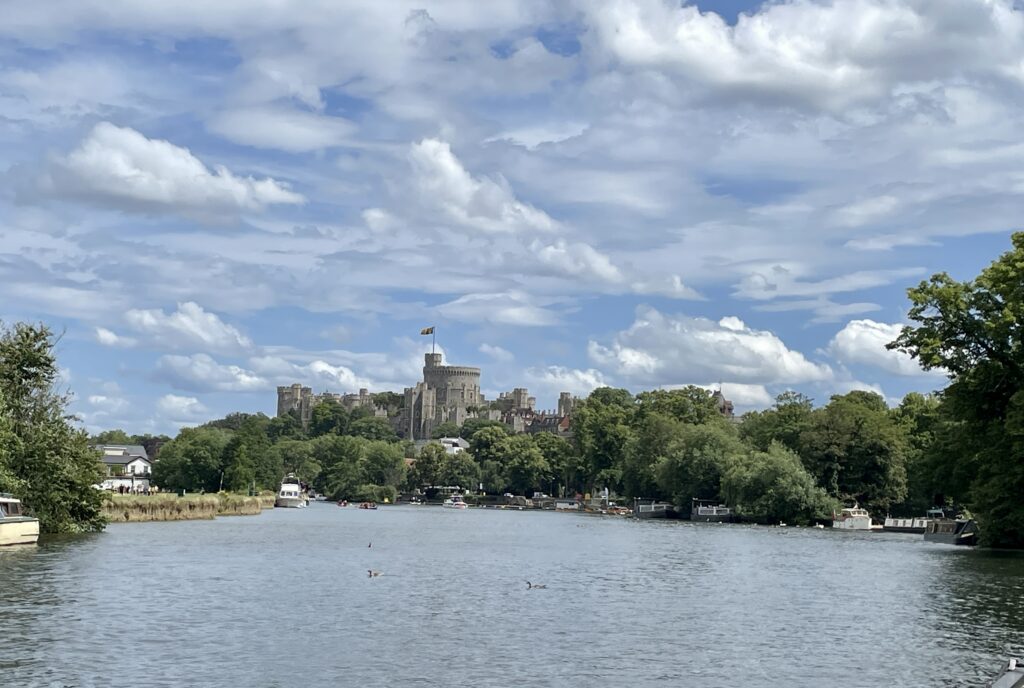 So now we find ourselves on the Kennet and Avon at last. I like it a lot. So far it reminds me of the Leeds and Liverpool. They are both broad canals with a reputation for being difficult, they both flow through some beautiful countryside, they are both lined with pillboxes from WWII and they both terminate in a major port, Bristol and Liverpool respectively.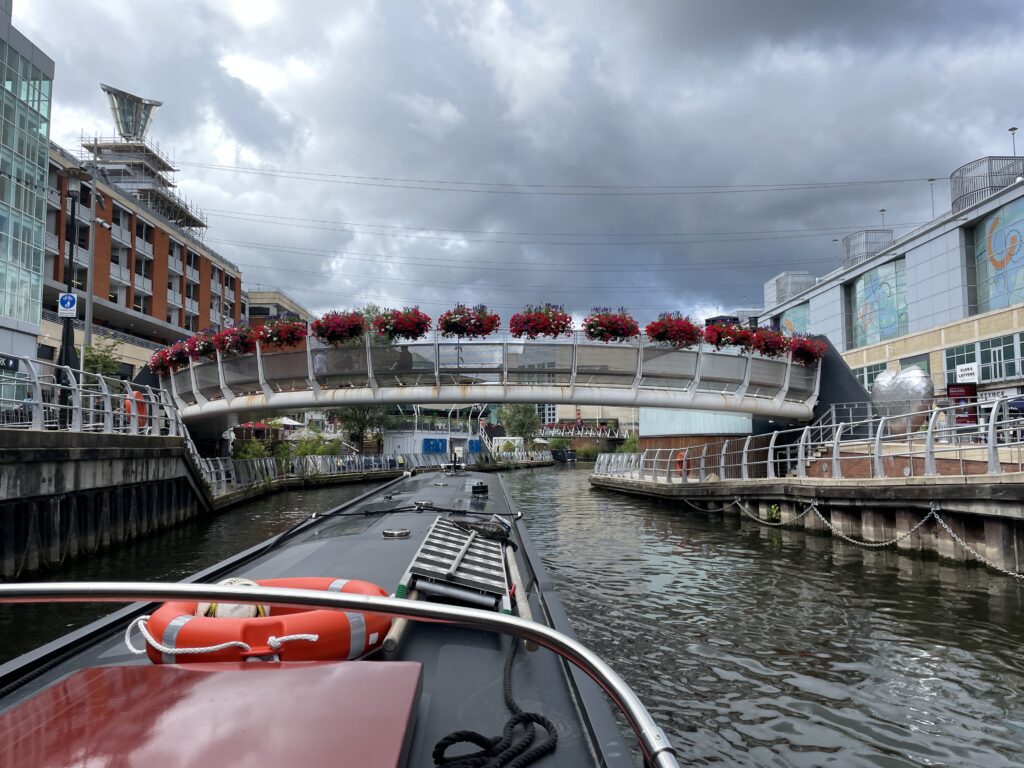 We've seen some interesting things, the turf-sided locks for instance. We even survived the fearsome lock entrance at Woolhampton relatively unscathed.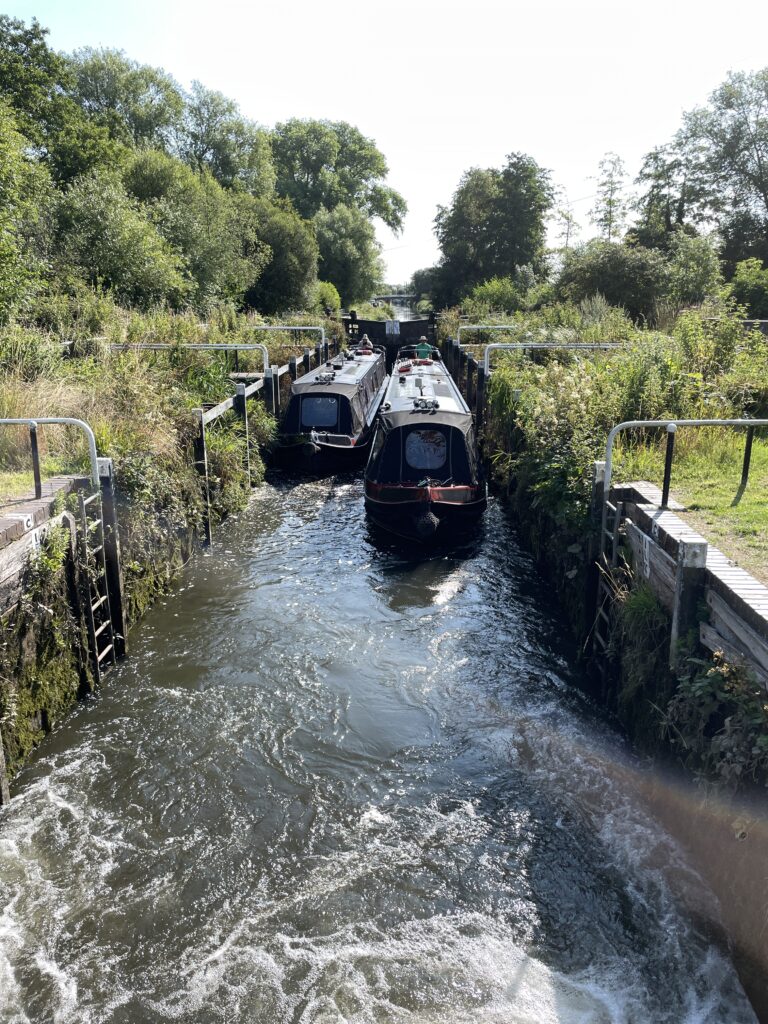 For one night only we found one of the nicest moorings we've had in a while at Tyle Mill. I think it rates up there with my favourites at Gargrave on the L&L and Barnton Cut on the River Weaver. I'd like to spend a few peaceful days there in the future, enjoying the company of the resident cows. I wouldn't mind next time though if we didn't see the cover in which we wrap our pram hood while cruising disappearing down the River Kennet never to be seen again! That's going to be expensive.