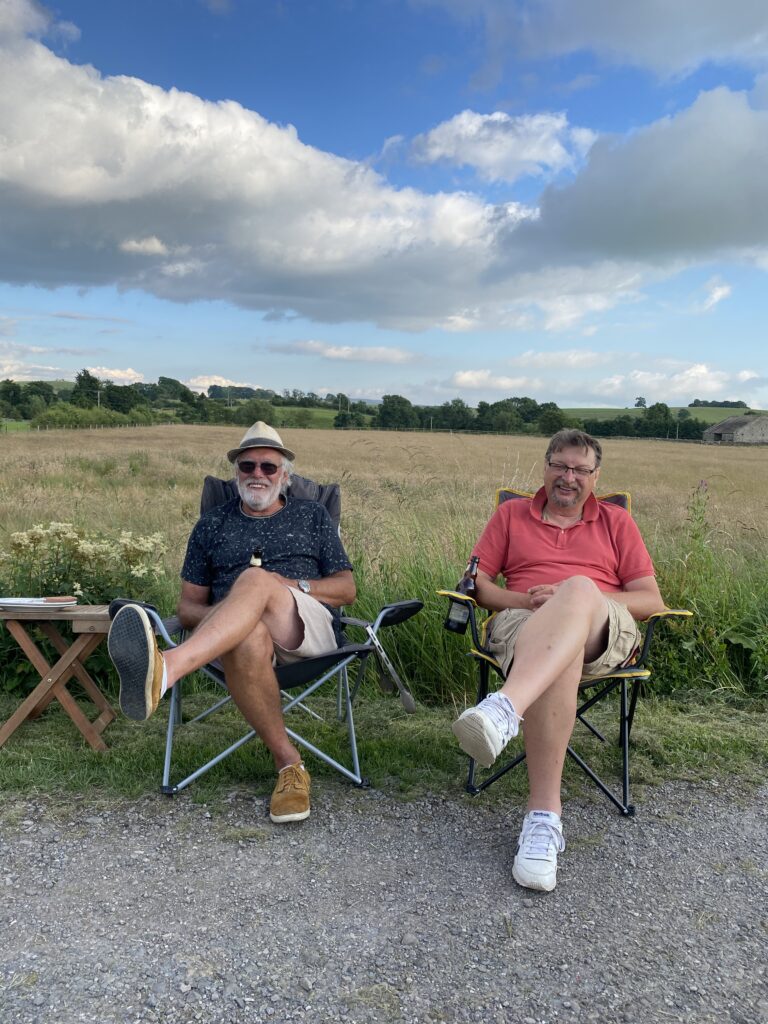 Since my last post, we've been to Skipton twice and spent rather a lot of time there. It won't be the last time. We're constantly reviewing what I loosely call our cruising plans. It's likely we'll turn around after Leeds and retrace our steps rather than carry on down the Huddersfield Narrow Canal. I've heard it referred to as the "Huddersfield Shallow" and with all the trials of this summer, we don't need that sort of angst. We've never planned on covering every inch of the network for the sake of it.
The first time we cruised through Skipton with Trev and Jen, turned around and went back to our favourite mooring in Gargrave and towpath barbecues. The night England played Italy in the Euro 2020 final, all fired up watching the TV on Life of Riley, someone noticed a train on the viaduct. It was the Flying Scotsman, thundering along with a full head of steam and pulling a string of empty carriages. It was a magnificent sight, and none of us was fast enough to grab a camera.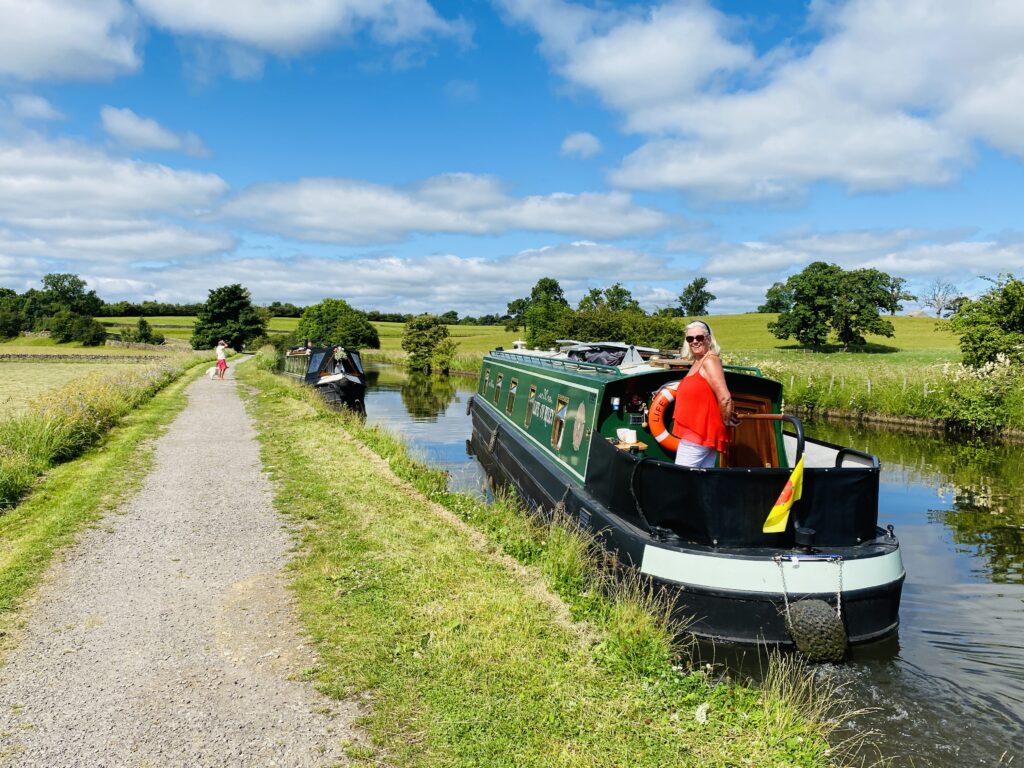 The next day we had visitors, Mary and Ewan our next-door neighbours from Wareham. We took them to Skipton on the boat, it was the first of the recent really hot days and we worked them hard. It was lovely to see them and catch up.
While we were in Skipton, apart from enjoying pork pies from two of the award-winning butchers there, we also caught up with Mike and Christine who we hadn't seen since we met them on the River Weaver last year. We drank far too much red wine and in the evenings, with all the hatches open because of the fearsome heat (we got to 32C on the boat quite a bit), we played some very competitive games of dominoes and crib!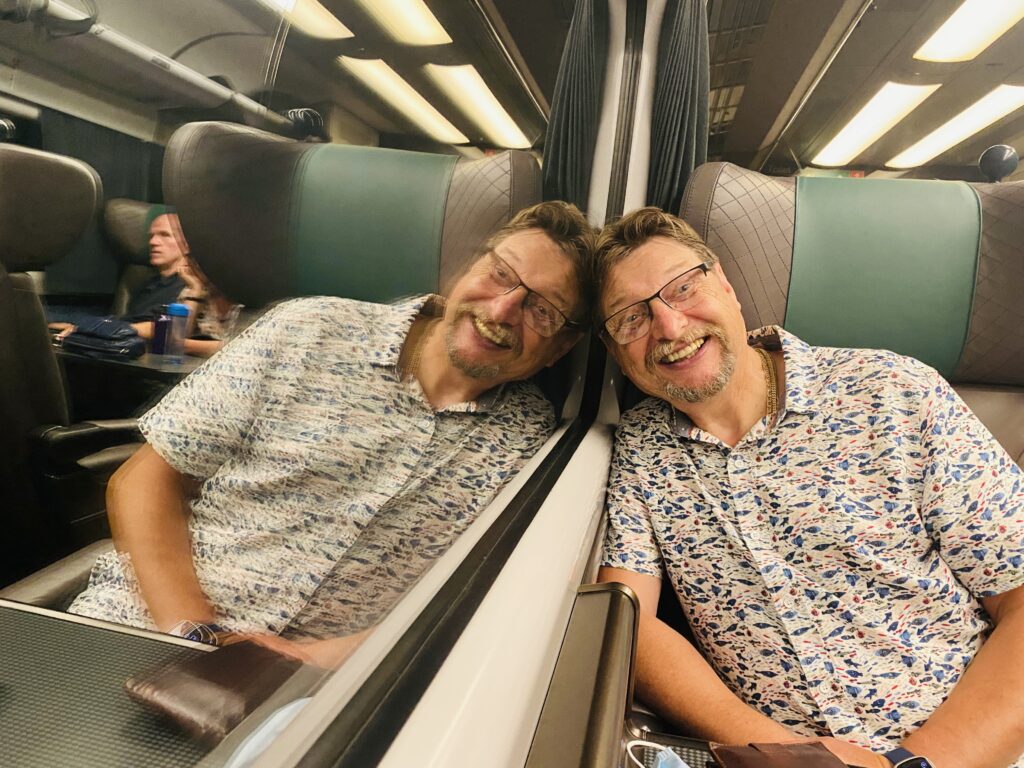 I thought we deserved a further treat, so one day we set off on the very swish Staycation Express from Skipton via Settle to Carlisle. It's such a famous run and was a lovely day out.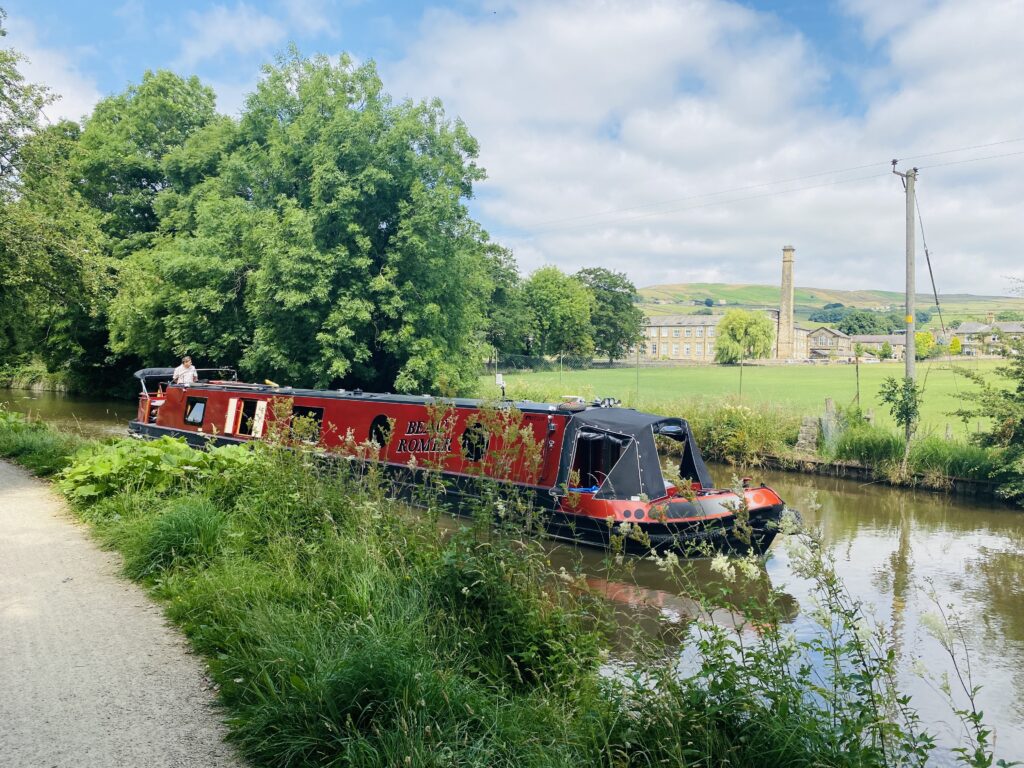 Back on the route Eastwards, we passed a canalside memorial to seven Polish Airmen who were killed when their Wellington Bomber crashed on a training flight in 1943. It's a sad story, one of them had been married for only 3 weeks and it was his bride, years later, who unveiled the memorial.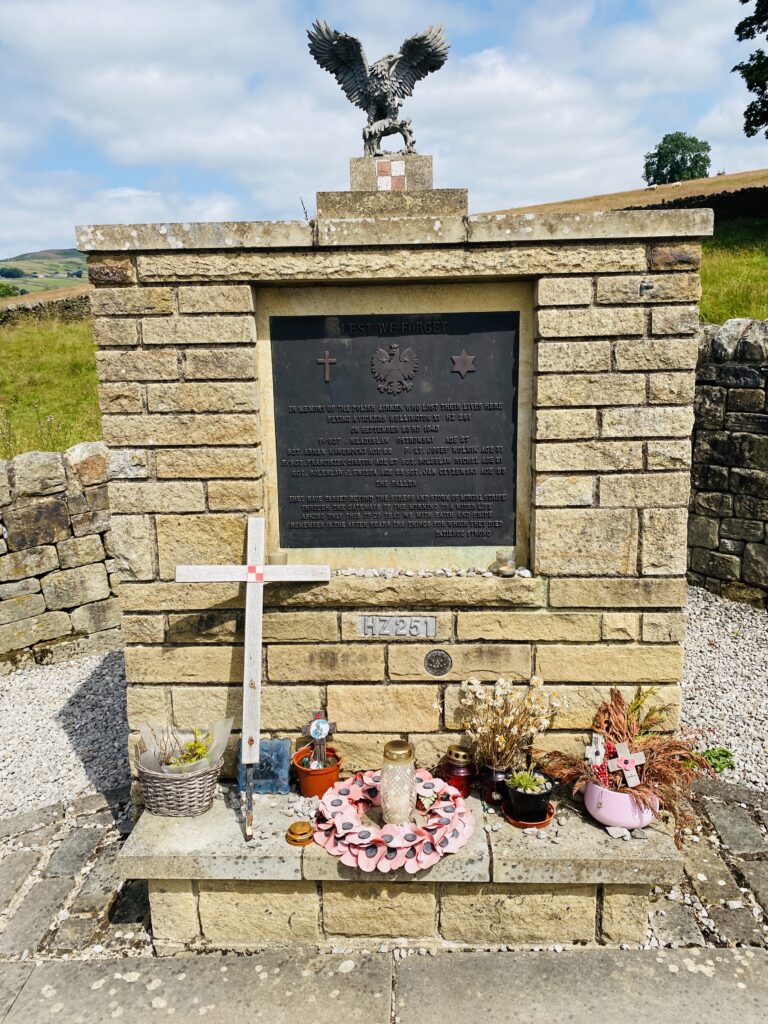 On Friday evening we were moored up in the little village of Kildwick. There's a church on one side of the canal that strikes the quarter hours all through the day and night, and it's cemetery over Parsons Bridge on the other side. We were having Friday night drinks with our friends from Wareham on Zoom when we noticed a hire boat weaving a very erratic path towards us. I could see exactly what was going to happen before it did. Crash! Yes, they drove right into the side of Beau Romer, before ending up in the bushes on the other side of the canal. Nothing to do about it, no point in shouting at them.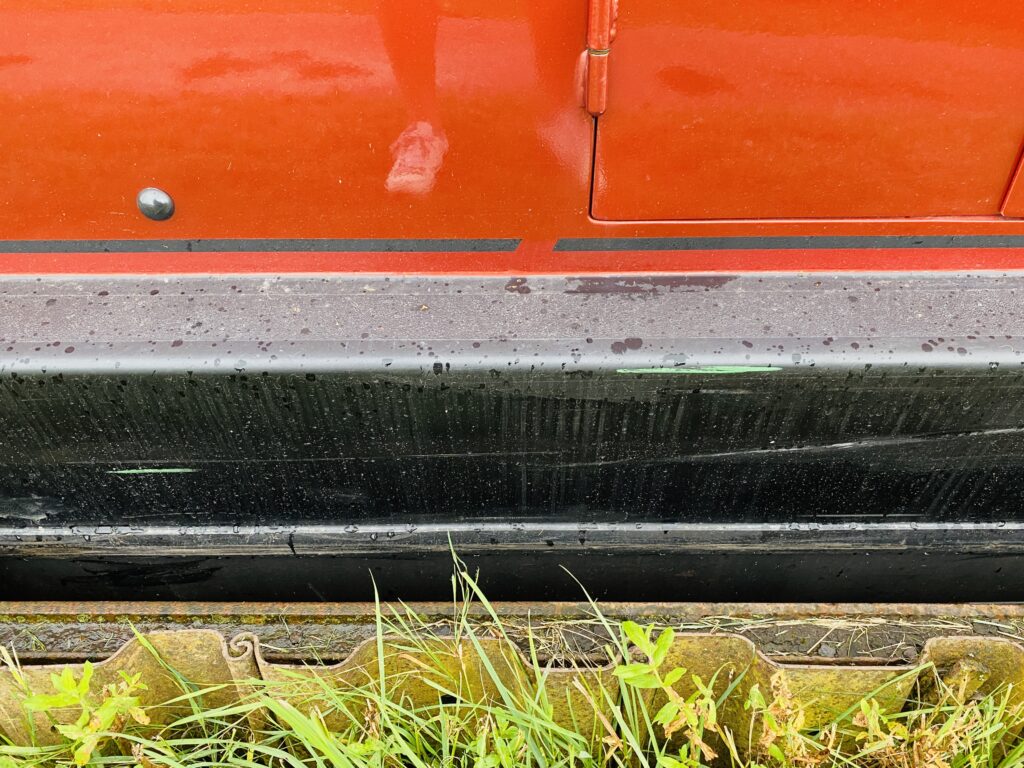 We stopped in Keighley to have another rendezvous with Mary, this time bearing a cucumber from her garden at home.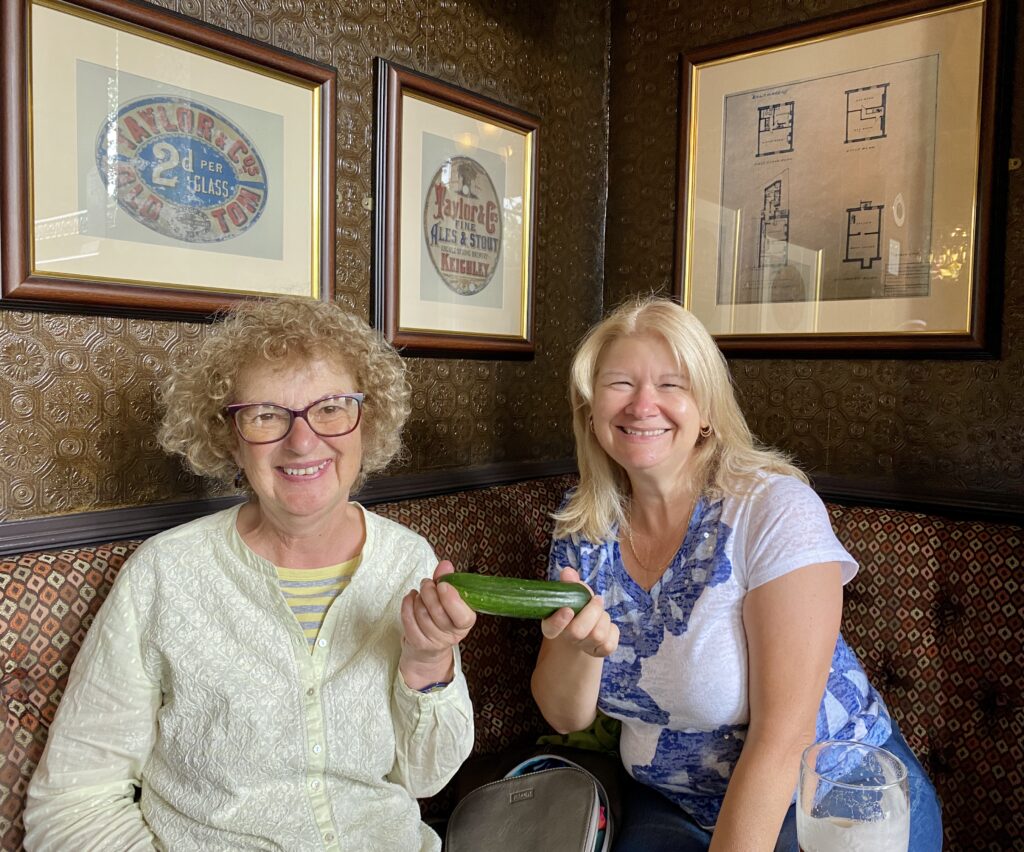 We came down the Bingley Five Rise with a lovely family on holiday. They had twin 16-year-old sons, and the lock keepers put them to work!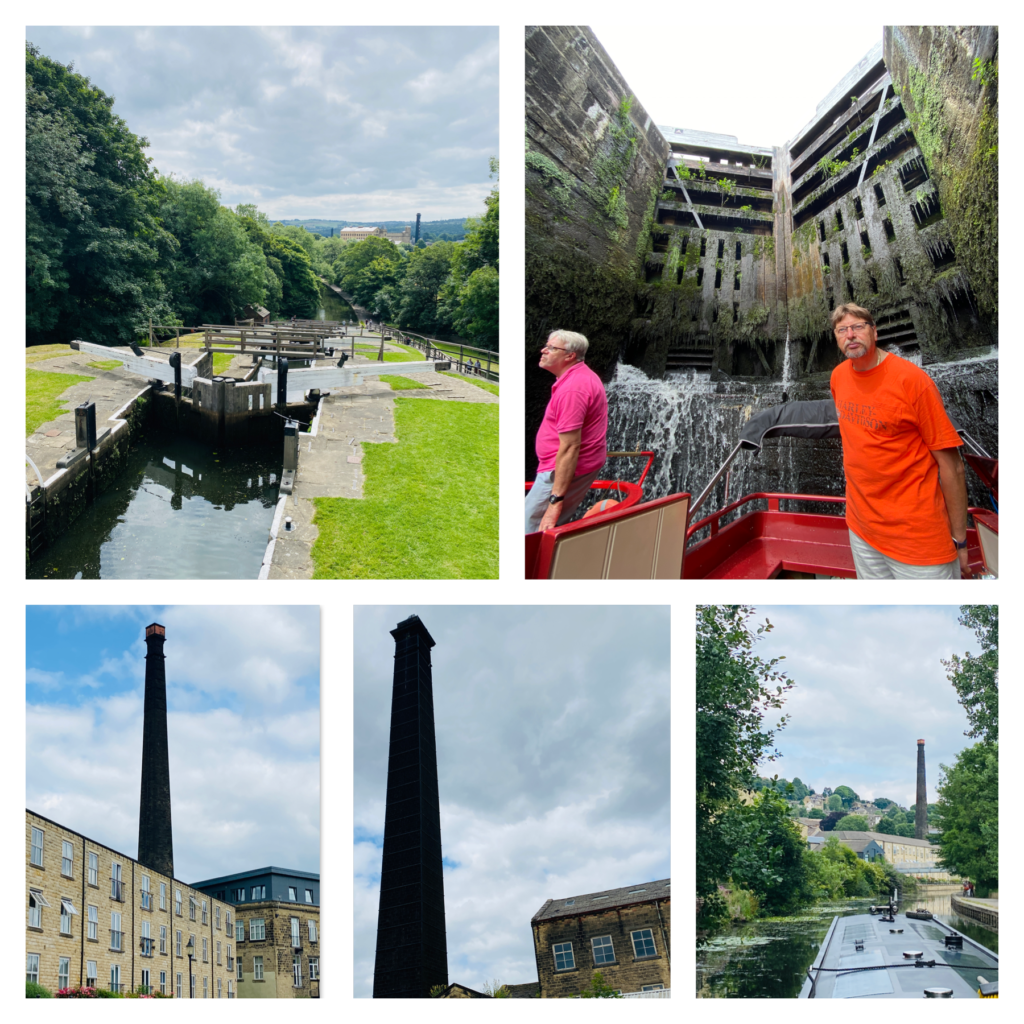 I was really looking forward to Saltaire, Sir Titus Salt's model village. Oh happy memories of studying it, and similar for my housing qualifications! We had plans to visit the gallery to look at the large collection of David Hockney paintings. No-one told us the whole place is closed on Monday and Tuesday. Something for the return trip, and we did have the pleasure of meeting Mary's friend Barbara who tracked us down.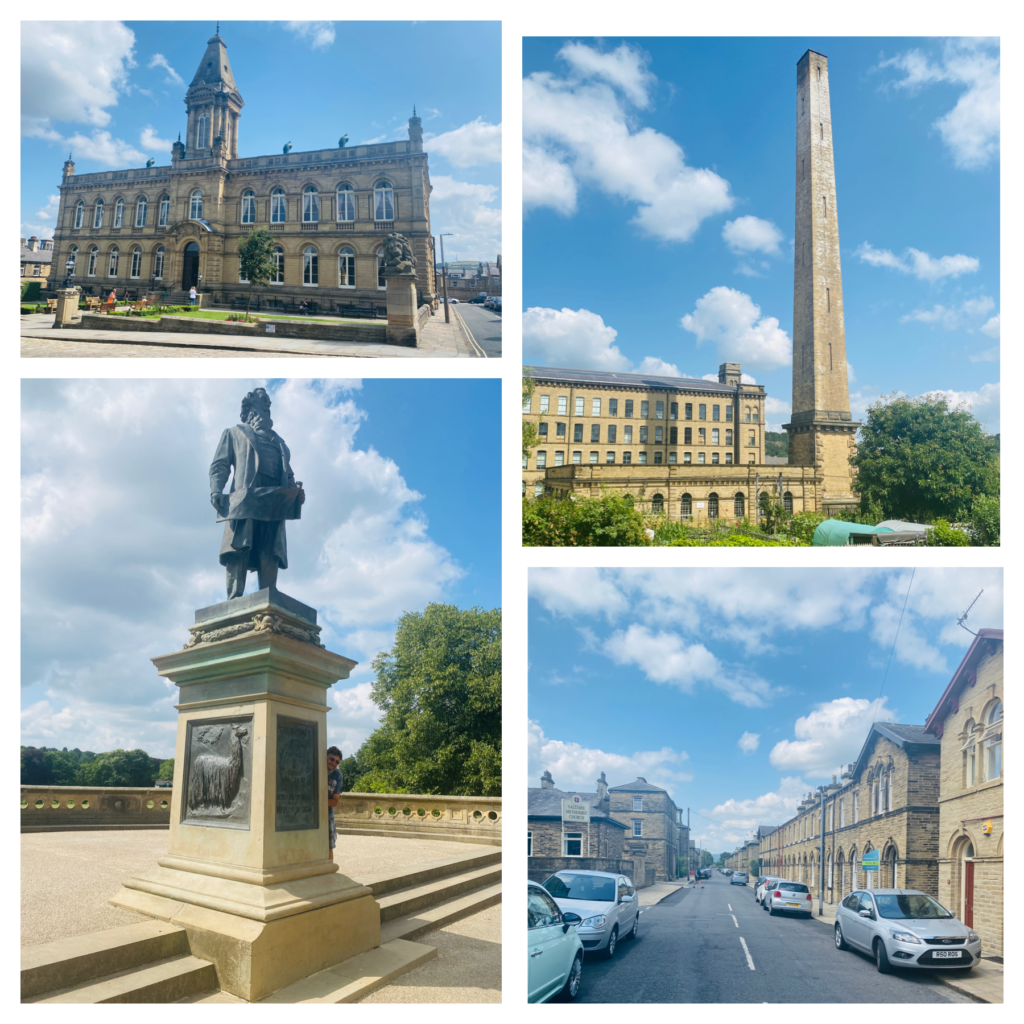 Yesterday we had a scary incident. We were coming through the Dobson Locks Staircase at Apperley Bridge. In a staircase the bottom gates of one lock are also the top gates of the next, and water from one lock fills the lock below They always cause me a bit of a headache working out how to set them. We were going down and it was all fine until I was in the bottom chamber and had to reverse the boat so Martyn could open the lock gate and I could get out. The lock gate was leaking badly and water was cascading over my head like a tidal wave. It was more than the channels around our engine bay could cope with. Consequently, the engine bay was flooding, I was getting a cold shower, there was a warning buzzer sounding and I honestly, for a second or two, thought the boat was going to sink and I was going to drown.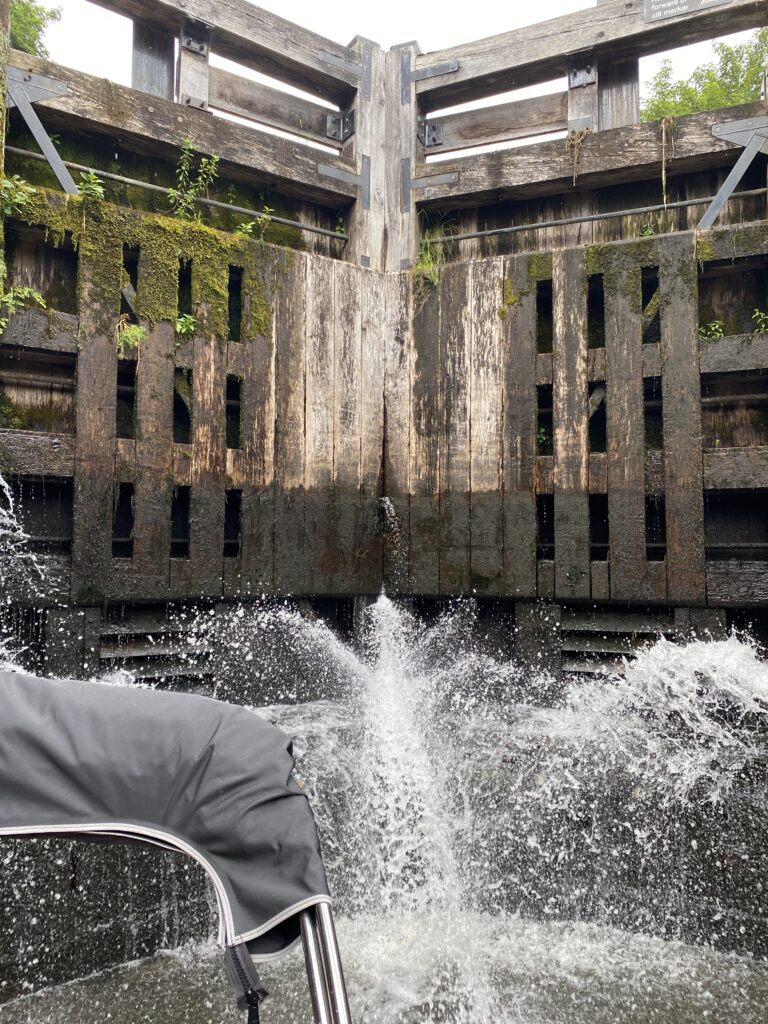 When I finally managed to get free of the torrent and moor up I was straight off for a shower – hot this time – and Martyn was mopping out the engine bay to get rid of the water the bilge pump didn't reach. Lesson learned; we're going to keep the pram hood up in future going down staircase locks!